[Written by Laurie Fullerton] Day one of the RenRe Junior Gold Cup started with winds gusting to nearly 30 knots in the Great Sound favoring the heavier sailors on the course. The winds were so strong and variable that the 38-strong fleet of sailors were only able to complete two full races today putting 14-year old American Wade Waddell in first place with two bullets.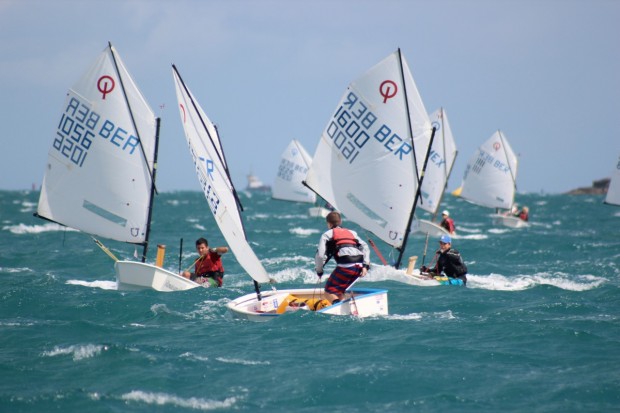 Conditions were rugged for the young sailors today, but the deciding factor to call it off early was both shifty winds and reports of a severe weather front heading towards the sailors. Discretion being the better part of valor, chairman of the race committee Charles Tatem decided to call it for the day.
"There were some very difficult conditions but we try not to cater to the least experienced sailors and we tell the coaches it is up to them to take out a sailor if it gets too rough. However, for some of our younger sailors these were some of the most extreme conditions they have ever seen," said RenRe Junior Gold Cup event chairman Somers Cooper.
"But, the very ominous weather forecast, clocking winds to the right and some support boat issues were the factors that brought us in early. Tomorrow, we will sail it in the conditions we have."
The heavy breeze was a factor in Waddell's stand out performance but he also played the wind shifts beautifully to dominate both races. Although he will "age out" of the Optimists at the end of December, he noted that "hiking out was important today but I really also had to play the shifts. It was really shifty. When it is like this, I usually just try as hard as I can to keep the boat flat, but I really needed to play the shifts today."
Waddell added that much of the time sailing upwind he and his fellow competitors were bailing their boats to keep them afloat. For second place finisher Marvin Frisch of Germany, who had a sixth and a third place but is lighter than Waddell "these are not my kind of conditions. It was really difficult for people as light as me and I was really struggling."
Still, the German National champion has proven to be one of the top ones to beat and has a solid second place. Astrid Still of Finland, a tall girl on the verge of "aging out" of the Optimist dinghy, seemed to be the most contented competitor on the water today.
Placing third, she was just hitting her stride with a fifth place and fourth place finish when racing was called for the day. "Coming from Finland, I love these conditions. This is my kind of weather and I really like to sail on this kind of day."
Bart Lambriex of Holland, who finished with a second and ninth, is built like Frisch and agreed with him when he said, "it was a really hard day keeping the boat flat and the water out."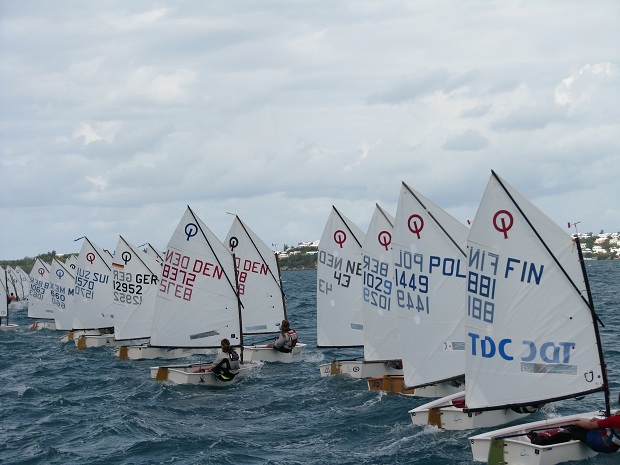 For Matthew Whitfield of Wales, who is in sixth place after today, the sailing conditions were marginal and were "tough but we all got through it OK."
Bermudians did not finish in the top ten after the first day, but Makai Joell had a 16th and a 10th place finish. "It wasn't my favorite kind of day but I am really enjoying racing here, I like being out on the water today and this is probably my last big race in the Optimist. I am getting too big for them and will probably go into the 49ers or 470s," he said.
Ellie Wollman is in 15th place and said that "I have been sailing in 470s more now but it was good to be out there today.
It was the sailing coaches who had to really keep track of the flock today, as some of the younger, less experienced sailors were having some tough times. Capsizes, withdrawals, and some gear failure made it a challenging today for coaches trying to decide who should stay in and who should come out.
"Today was quite a fetch keeping the race going and on track as it was difficult in these conditions to change the course and the chop was very bad," said sailing director Tom Herbert Evans. "But, the kids were great and did amazingly well."
Racing resumes Friday morning on the Great Sound and the race committee aims to complete 15 races before Sunday, so they will have their work cut out for them.
Read More About