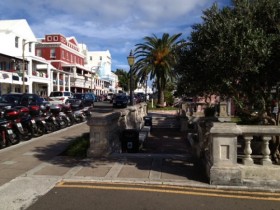 In Magistrates Court this morning [Dec 27] Antwone Simons, 47, was jailed for 10 days after admitting engaging in sexual relations with another man on Front Street.
30-year-old Kevin Mendonca had already appeared on the same charges last week, and was also jailed for ten days.
Mr Simons was charged with behaving indecently in public, charges which  he plead guilty to. He was also charged with obstructing course of justice by giving a false name to Police, with the Court hearing he initially gave his twin brother's name to the police.
The Court heard that Mr Simons and Mr Mendonca were seen on CCTV engaging in sexual behaviour in the #6 Cycle Park around 7:30pm one evening in September 2012.
The pair then moved another area of Front Street [pictured], where Mr Mendonca performed a sex act on Mr Simons. The Court heard the two men's activity was visible to passers by on the sidewalk on Front Street, and police were called and arrested both men.
Senior Magistrate Archie Warner sentenced Mr Simons to ten days in prison for the indecent behavior charge.
When sentencing Mr Mendonca last week, the Senior Magistrate said the act showed a blatant disregard for other people, would have been just as bad if it had been between a man and a woman, and that sex in public must be discouraged.
Read More About
Category: All, Court Reports, Crime, News