[Updating: Police confirm that both shooting victims have died. The shooting happened just after 9pm, with the two victims found inside of the Belvin's store on Happy Valley Road. No ages were given for the victims, but the police said they were "young Bermudian" men. Anyone with any information is asked to contact 247-1739 or the confidential Crime Stoppers hotline on 800-8477.]
At sometime around 9pm this evening [Jan 23] there was a shooting in the area of the Belvin's store on Happy Valley Road and two people have been injured. They were rushed from the scene via ambulance, and the police have responded to the scene. Details are limited at this time, however we will update as able.
Updates will be posted as able, scroll to bottom for latest: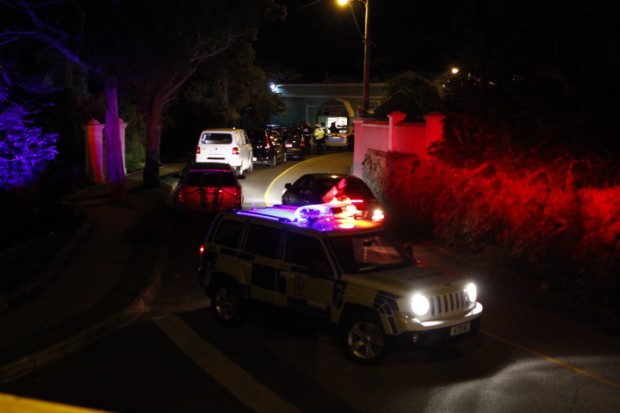 Update 9.33pm: Police Media Manager Dwayne Caines has confirmed that two men have been shot.
Update 9.40pm: The police seem to be paying extensive attention to the actual inside of Belvin's store, and crime scene tape is strung in the area in front of the door…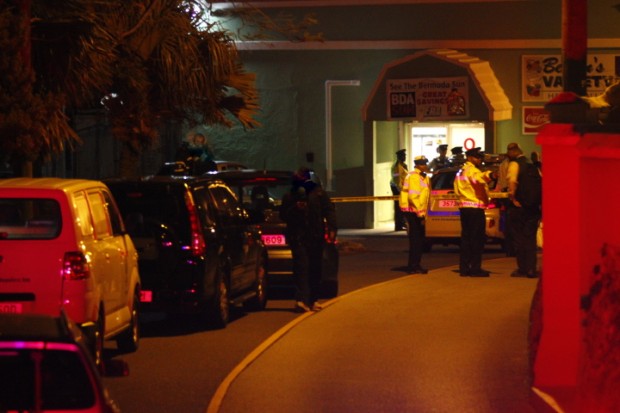 Update 9.49pm: The police continue to appear to be investigating the area inside the actual store. Some area residents are out watching the proceedings…
Update 10.00pm: We unofficially understand this is a very serious situation. We expect to receive a police statement shortly…
Update 10.08pm: The police are preparing to issue a statement on the scene…
Update 10.15pm: Mr Caines confirmed that both victims have died…..full statement expected shortly…
Update 10.18pm: Police confirm the shooting happened just after 9pm, with the two male victims found inside of the store. They were taken to KEMH, where they were pronounced dead. No ages were given for the victims, but the police said they were "young Bermudians."
Update 10.26pm: Video of statement from Police Superintendent Sean Field-Lament:
Update 10.44pm: Police remain on scene at Belvin's, and there is also at least three police cars maintaining a presence at the hospital, where a few dozen people have gathered.
Update 11.30pm: Audio above exchanged for video
Update 11.36pm: Full police statement below….
Around 9pm on Wednesday, January 23rd police officers responded to a confirmed firearm incident at Belvin's Variety store on Happy Valley Road in Pembroke.

Upon arrival at the scene, officers discovered two injured men inside the store. They were taken to King Edward VII Memorial Hospital, where shortly thereafter they were pronounced dead.

Members of the Serious Crime Unit are now investigating this double homicide and are appealing for anyone who saw any suspicious activity in the Happy Valley Road, Pembroke area to contact 247-1739 or the independent and confidential Crime Stoppers hotline on 800-8477.

No further information will be given regarding the deceased until the next of kin have been notified.
Update Jan 24, 12.40am: Calling the murders "appalling," Governor George Fergusson urged people to step forward if they have any information. The Governor's full statement follows below.
Last night's murders are appalling. I am thinking of the anguish of these young men's families and of the complete futility of this cruelty.

This is a time for those close to people involved in gangs to take brave steps to help the police protect our society. I would ask them to do all they can to discourage retaliation.

And everyone who knows anything about these murders needs to provide information straight away to the police or in confidence to Crimestoppers.
Update 7.40am: As of this time, Belvin's remains closed, with crime scene tape and a police presence still visible.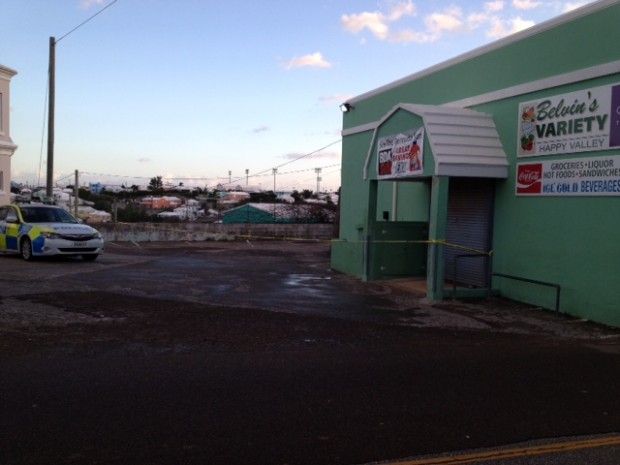 Update 9.42am: Both Governor George Fergusson and Minister of Public Safety Michael Dunkley are expected to address this tragic double shooting later this morning…we will try and carry a live video feed of the press conference. The police are also expected to release a further statement today.
Update 10.43am: Minister Dunkley and the Governor's press conference is at 11.30am, and the police have confirmed they will be also holding a press conference at 1.30pm this afternoon.
Update 11.05am: The Shadow Minister of Public Safety Michael Scott released a statement about the double murder, it follows in full below.
First I offer to the affected families my personal sincere and profound condolences and that of the Progressive Labour Party family as well.

The tragic murder of two young men at Belvin's has to drive Bermuda's own debate on gun control, the pain of loss to families, and the issue of weapons deployment in our communities with fatal consequences are as painful and destabilising as we see elsewhere.

Many citizens feel we have already descended to the horror of violence seen in other communities. Whatever the true position, we must as a country act – act to support the police and security forces, and act to prevent gun and ammunition importations. I know that in asking the public to give information also puts you at risk; however, if we stand together we can and must make our communities safe again.

And while the police must receive public support, they too, from the top Leadership to the lower ranks must be held accountable to prevent gun murders, not just apprehend the perpetrators; a matter that is often the easier part in a community of our size.

The urgent agenda is halting gun deaths and escalation of violence and the destabilization of Bermuda. The PLP will not nor will I support a police strategy that presides over increasing loss of the streets to this mobster element and the loss of human life.

The Governor and the Commissioner's operational leadership must be stepped up to reflect strategic preventative action.

The PLP has these concerns and we have action plans that we are prepared to share with the police leadership as we did as the government.

Again on behalf of the Party Leader, Mr. Marc Bean and PLP Family I offer to your families our thoughts and Prayers and our commitment to work with the authorities to bring the person or persons responsible to swift justice."
-
Update 11.30am: Sorry, we cannot get a decent connection going at Government House, so are unable to bring a live video feed. The press conference is about to begin in a few minutes, and we will post the video later on today.
Update 11.42am: The press conference is just getting underway. Police Commissioner Michael DeSilva is the first to speak, and extended his sympathies to the victim's family and said catching the perpetrators is their first priority.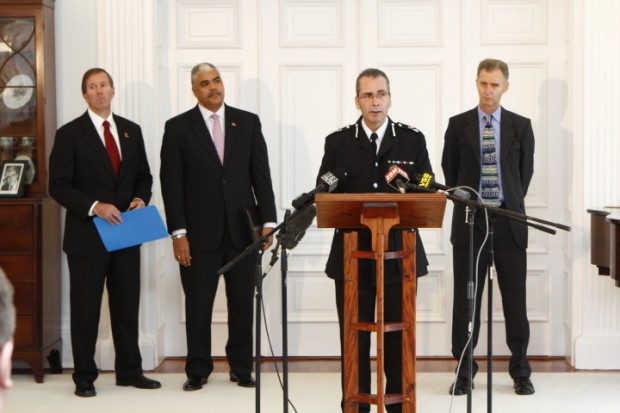 Update 11.44am: Governor George Fergusson is now speaking. He is addressing the risk of retaliation, and said while he notes "hard core" gang members won't listen to a Governor or Minister, he knows there are many good people out there who are willing to come forward.
Update 11.45am: Premier Craig Cannonier is now speaking…after extending his sympathies to the families, he said we are losing our young people, our most precious resource, to violence. Describing himself as being "torn up" over this incident, he said we must intensify our efforts to get along.
"The lives that were lost, these two lives, does not bode well for any of us," said the Premier. "We will intensify our efforts to make sure there is more of a presence."
Update 11.51am: Public Safety Minister Michael Dunkley is now speaking. Calling the double murder 'shocking', he is urging people to come forward if they know anything. The Minister said they are working closely with Government House and the Police to make the island safer and "will not rest."
Update 11.59am: The press conference has ended. The police have stated they intend to release a photo of the suspected gunman later today.
Update 12.09pm: Minister Dunkley's full statement is posted here.
Update 12.40pm: The 20-minute audio of the press conference is below:
Update 2.44pm: The police have released a CCTV image of the gunman, and formally identified last night's victims as 34-year-old Haile "Star Child" Outerbridge and 25-year-old Rico Furbert, both of Pembroke Parish.
The CCTV image is below, click to enlarge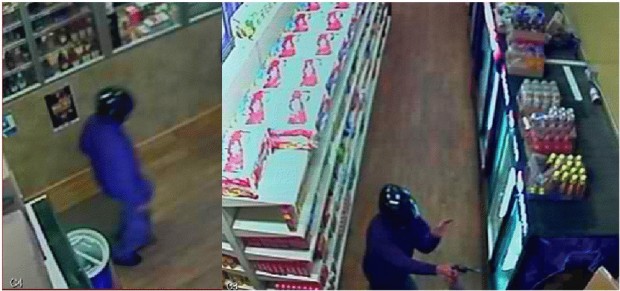 Read More About