A family which was already grieving is left dealing with a second tragedy, as the death of Millard 'Chris' Bean in the industrial accident at Morgan's Point yesterday followed only weeks after the death of his stepson.
Mr Bean, 47, was the stepfather of Torrie Baker who died on 19 January 2013. The 25-year-old aspiring singer/songwriter was killed in a cycle collision on Mullet Bay Road in St. George's.
In a tragedy of extreme proportions, Mr Bean's wife Lorrie Bennett-Bean has lost both her son and husband in the span of under three weeks.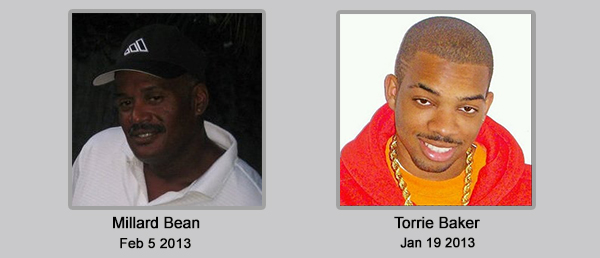 The police said Mr. Bean was seriously injured when a wooden structure fell on him at around 11am. He was treated at the scene by EMTs before being rushed to King Edward VII Memorial Hospital via ambulance, where he was later pronounced dead.
He was an employee of Island Construction and the staff there are said to be distraught over the death of their co-worker. Like his stepson before him, Mr Bean was a well liked person, with numerous people expressing their grief and recalling the good times they had with him.
Approximately 20 people have lost their lives in industrial accidents in the past few decades in Bermuda.
The last person to die in an industrial accident was 18-year-old Kevin Ledo, who was killed while doing landscaping work at a Warwick residence on Christmas Eve in 2011, and the last person to be killed on a construction site was Malaysian contract worker Toh Chee Seng, who fell off a ladder in 2010.
A investigation into the tragic incident that claimed the life of Mr Bean is underway by the Government Health and Safety officers and the Bermuda Police Service.
Read More About