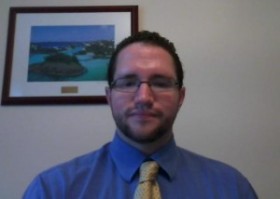 Yesterday afternoon [Feb 5] the police attended a 'sit in' which was launched by Jonathan Starling [pictured] at the Home Affairs Ministry headquarters.
The former Independent political candidate was seeking the release of the Term Limit policy review document.
Last week Home Affairs Minister Michael Fahy confirmed that Government will eliminate the Term Limit Policy, which restricted work permit holders for working on the island for longer than 6 years without a waiver.
The Opposition PLP has expressed their disagreement with the way it was handled, with Shadow Minister of Home Affairs Walter Roban asked what happened to the pledge of suspending them for 2 years, noting that both Craig Cannonier and Bob Richards previously said they not end Term Limits, instead they planned to suspend them.
In response to complaints by the Unions they were not consulted before the decision, the Ministry pointed out they did consult with the unions via the Bermuda Trade Union Congress [BTUC], having sent them a copy of the Term Limit policy document and requesting feedback.
The email to the stakeholders, with the Term Limit review document attached, said the document was not for media consumption, and was shared with the email recipients in confidence.
Mr Starling has degrees in Ecological Economics and Urban and Regional Planning, and is well known in the online community through his Catch-A-Fire blog, which he has maintained since 2007. He ran as Independent candidate in C#20 Pembroke South West in the 2012 General Election.
In a discussion on the Bernews article about the Ministry seeking feedback from the Unions, Mr Starling posted, "I think that the OBA broke their promise of a two-year suspension and thorough review, and have written on that in various places.
"I also question how much of a substantive review they could conduct within three business days of soliciting a review from key stakeholders, and one day to analyse these responses.
"I also think the policy review should be made public, and without seeing it I find it hard to accept the review/consultation was thorough.
"The OBA campaigned not only on a two-year suspension and review, but also for transparency. I'm trying to hold them accountable to themselves."
A press statement by Mr Starling about the matter is below:
Earlier today I was involved in a direct action initiative at the Ministry of Home Affairs, in Sofia House on Church Street.

I went to the Ministry of Home Affairs in order to achieve two objectives:

1) Get clarification from the Minister concerning his recent statements on 'policing' the internet.
2) Ensure the public release of the policy review document which informed the recent decision by the Minister to abolish term limits.

As I discovered that the Minister was off-island, I decided that it would be impossible to achieve the first objective, and instead focused on the second.

Prior to going to the Ministry I made inquiries concerning PATI and the proper process by which to initiate a PATI request concerning the policy review. I was informed that PATI is not operational and, indeed, was essentially dormant at the moment, pending instruction from the new government.

I decided at this point that I would go to the Ministry and I would not leave until I had either a commitment on their part to release the policy review, or a written statement on why the policy review would not be made public. I understand that the Minister was not present, but understood that the acting Minister or Premier would be able to instruct the Civil Servants on this matter.

I was initially told by the staff that they would make an appointment for me to discuss this issue with the PS. I agreed to this, but insisted that I would wait until the PS returned from lunch and ensure she understood my position. On her return, I provided my contact information with her, but insisted I would not leave until given a written statement about whether or not the policy review could be released, and if not, why not; or a written statement of when the appointment would be.

The PS refused to give me either, and I insisted on staying in the Ministry until either of the above was forthcoming. I was presented with a written statement confirming that she had met with me, and taken my details for an appointment, but not the details of an appointment itself.

I sat in the waiting area at the front, reading a paper. I was informed that if I did not leave promptly that security would be called. I repeated my earlier position.

Some time later, the police arrived. There were at least seven police who responded, four in fluorescent jackets, and three additional in black vests. I believe there were more police, possibly up to nine, but as I was somewhat distracted by their arrival I cannot be sure. I took a picture of the first four police as they arrived, but was unable to take further photos.

I was approached by two officers, while the rest stood behind them. They asked me what I was doing, and I told them that I was waiting for a written statement concerning my freedom of information request. They asked me some additional questions which seemed irrelevant to the matter at hand. I distinctly remember them being particularly interested in where I was employed.

I was informed by one officer that if I did not leave immediately that I would be arrested. I asked for clarification on what legal basis I would be arrested for simply sitting quietly in a waiting room of a public ministry awaiting a written statement. I was informed that I was to be arrested under the Summary Offences Act for obstruction, I believe, of business. I pointed out that I was in no way obstructing the civil servants from their business, any more the coat rack or empty seats also in the waiting room.

I admit I also noted that it seemed a tad over the top to send at least seven police officers to deal with this issue, as it seemed that their skills would be better served elsewhere, and that one or two officers would have been sufficient for this incident.

As I was about to be arrested, Minister Dunkley arrived and asked to speak with me privately. I insisted on a police officer being present to take notes and as a witness, and once this was agreed, I agreed to speak with the Minister in the boardroom.

After discussing why I was there and in this situation, Minister Dunkley, the acting Minister for Minister Fahy, offered a compromise. I was given his word that he would ensure the policy review in question would be given to me, and thus the public, if I agreed to cease my sit-down. Taking the Minister by his word, I complied with this deal, and was promptly escorted out of the Ministry and building.

I would like to make two points here:

1) The civil servants involved were pleasant and professional. I understand they were simply doing their job, and I hope they also understand that I was just doing my job as an active citizen in the democratic process.
2) The police themselves acted politely, and despite the situation, I understand they too were simply doing their job.

I would also like to note that at the moment I have a neutral position concerning term limits and their continuation or abolishment.

My concern however was that they were abolished despite the OBA stating as a pre-election pledge that they would suspend term limits for two years and engage in a thorough review involving consultation with key stakeholders.

As a member of the public I consider myself a key stakeholder, and feel that I was not consulted. I also feel that the policy review that informed the abolishing of the term limits policy should be in the public domain, if for nothing else it would serve to dispel some of the myths concerning the term limits policy, and ensure that the Government is held accountable for their actions. It would also serve as an educational document in this sense.

There are consequences when a Government breaks its promises, and the failure to consult with all stakeholders, including the wider public, especially when it involves a serious breach of the public's trust (in terms of their pre-election pledge) warrants the release of this policy review to the public.

I would also like to point out that at no time did I, in my belief, engage in any violent conduct. My 'protest' consisted of discussing the issue with the civil servants in a friendly manner and sitting in a waiting room quietly reading an article on urban planning.

PATI remains inoperational, despite being passed some years ago. While this is partially the failure of the past Government, as well as the immense task involved in making it operational, I was hopeful that a Government elected on the basis of inclusiveness and transparency – in the spirit of PATI – would be more open to the public release of such a policy review.

I encourage other citizens to also engage in peaceful acts calling for the Government to move swiftly in terms of PATI in general, and in releasing this policy review in particular.

I will be holding Minister Dunkley – and by extension the OBA Government – to its word on the release of this policy review.
-
Some of the tweets sent by Mr Starling yesterday are below:
Overkill for a solo sit-in? twitter.com/votestarling/s…

— Vote Starling (@votestarling) February 6, 2013
They sent 9 police & threatened to arrest. Minister Dunkley gave me his word he'd get me the review. Got escorted out.

— Vote Starling (@votestarling) February 5, 2013
The civil servants were very professional; I understand they were just doing their jobs.

— Vote Starling (@votestarling) February 5, 2013
Admittedly, I could have handled today better, but I set out to try and encourage greater democracy in our island.

— Vote Starling (@votestarling) February 6, 2013
There are consequences of breaking election promises, and citizens have right and duty to push for transparency.

— Vote Starling (@votestarling) February 6, 2013
I hope the government learns to become more inclusive & transparent in the future.

— Vote Starling (@votestarling) February 6, 2013
Speaking this morning, Mr Starling said, "I understand that my actions yesterday will be seen as being controversial, and there will be criticism of it. Non-violent direct action is not easy, and it certainly is not for everybody, nor is it always the best tactic.
"I certainly could have planned it better, but I felt it necessary to make a point now and see what I could do in terms of expanding democracy in Bermuda and to encourage greater transparency in Government.
"I agree that more could have been done in the past, by myself and the wider society. What is important today though is that we realise that being a responsible member of society involves also being an active member of the political process.
"It is one thing to comment online, and it is another thing to translate these comments into real action offline. It is important that, going forward, we are all engaged with the political process, in its various forms, both online and offline. There is room for both, and a necessity for both.
"Governments should be in awe of the people, not the other way around. I encourage people to be active in our society and to engage in non-violent acts which serve to advance the interests of the people, transparency and accountability."
Read More About