This weekend will mark Roy-Allan Burch's return to the competition pool since the 50 free at the London Olympics. He will be competing at the 'Arena Orlando Grand Prix', swimming the 50 and 100 freestyle.
After competing in London Burch took some time to make some decisions that would determine his future in the sport. He said, 'I wanted to be able to seal some better sponsorships before I made the decision to continue swimming until the next Olympics.
Burch shown during the 2012 Olympics, where he set a Bermuda record, and won his heat: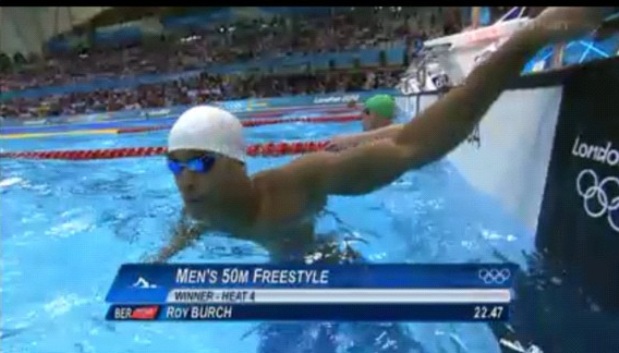 Burch continued, "There is so much hard work that goes into competing at this level and after looking back on the last few years, especially since January 2011 when I arrived in Charlotte, NC. I wanted to make sure that I got more out of my training then I did before.
"I wanted to take some time to rest my body and just be out of the pool for a while. I also wanted to rediscover what I love about swimming and then go from there. With funding being such a difficult thing to acquire as a Bermudian athlete I had to be truly sure that I loved what I was doing and would be willing to jump through a few hoops to secure myself financially."
Burch also went on to say 'Im not expecting much from my performances this weekend. This is a test run to see how much work I will need to do to perform well this summer at the Natwest Island Games being held in Bermuda, followed by the FINA World Championships in Barcelona. I have only just begun my preparations in the water a few weeks ago. I got back in the gym right after London to maintain and gain some strength on land so that getting back in the water wouldn't be so difficult."
Read More About