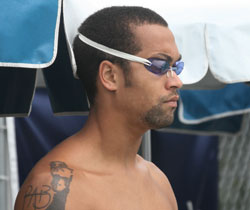 Roy-Allan Burch [pictured] has recorded the second fastest time ever for a Bermudian during the Men's 50m Freestyle Preliminaries at the XVIth Pan American Games in Guadalajara, Mexico.
Swimming in Lane 3 of the Men's 50m Freestyle Preliminaries Burch finished 4th recording the 8th fastest time along with Jose Gabriel Melconian from Uruguay.
The pair had a swim-off with Burch clocking 22.76 which was the second fastest Bermuda time at that distance and advanced to the A Final. Burch was only 7 hundredth of a second off his National Record Time at the distance.
Meanwhile Lisa Blackburn finished 7th in Heat 2 of the Women's 200m Breaststroke Preliminaries, with a time of 2:45.36.
Blackburn swimming in Lane 8 qualified for the Women's 200m Breaststroke B Final
Read More About