In March of this year Olympic swimmer Roy-Allan Burch suffered one of the worst injuries any athlete could sustain. It was a typical Friday morning, warming up for training, when both of Burch's patella tendons ruptured leaving him in severe pain.
He is now nearly six months post surgery and has had a smooth recovery despite all that could go wrong. Burch has sought out many methods of therapy to aid recovery and maximize his time as the Olympics draw near.
After learning of Roy's injury, Ben Wicks contacted him and offered to help out with his rehabilitation journey. Ironically, they now both live in Charlotte, NC and the two of them have known each other since childhood. Both attended Saltus Grammar School together, but went their respected ways to pursue higher education.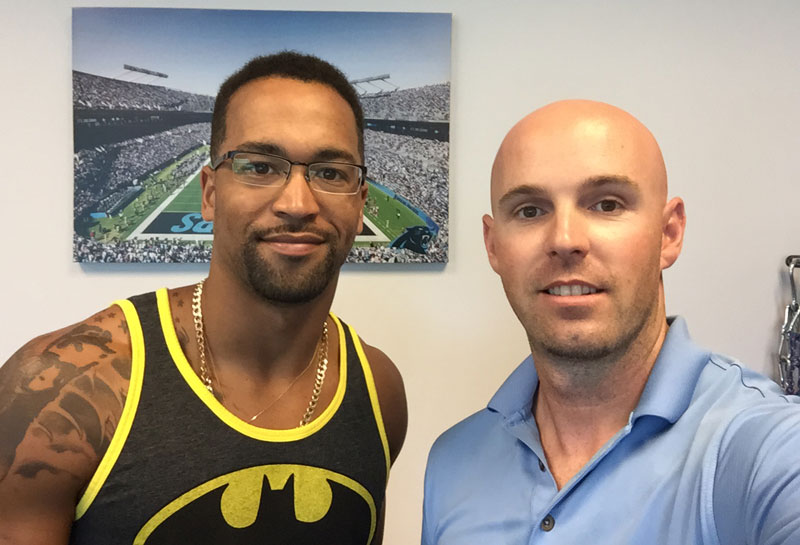 Ben now has a Masters in Muscle Activation Techniques [MAT] and practices this bio-mechanically based system of treatment. It's used as an adjunct for surgery rehabilitation, injury recovery and injury prevention. This cutting edge treatment was created to systematically restore the contractile capabilities of muscle via the nervous system.
It has recently been in the news that Payton Manning successfully used this technique as the main contributing factor, which brought him back on the field after seven failed neck surgeries.
Also the six-time Olympic gold medalist Amy Van Dyken Rouen, who sustained a spinal cord injury due to an ATV accident, is currently using muscle Activation Therapy. The doctors said she would never leave a wheelchair again; she is now able to walk on crutches.
Ben has been using this method of treatment for the past 5 years, since then he has spent two years traveling on the Professional Golf Association Tour and working with various professional athletes from the National Football League and Major League Baseball.
"I fully believe that with Roy's unstoppable determination and using Muscle Activation Therapy as an adjunct to his recovery program, he will be more than ready for Rio 2016″.
Ben has a firm understanding of what Roy is going through. During the Christmas holidays he suffered from a bilateral inguinal hernia, which went undiagnosed for just over a year. He had to have a full reconstruction on his lower abdomen. Due to the severity of the surgery he, like Burch, had to relearn how to walk. He is now back to work and enjoying helping more than ever.
Read More About