The story of the unruly family who caused a Sunwing plane to divert to Bermuda has received substantial international attention over the past week, with it headlining the Canadian and international news reports for the past few days.
It was actually the second time in recent years a plane diverted to Bermuda due to a passenger-created fracas, with another flight diverting here in 2010. Coincidentally, that flight was also headed to the Dominican Republic, which is the same destination the recently diverted Sunwing flight was headed for.
The Thomson airlines flight after diverting to Bermuda in 2010: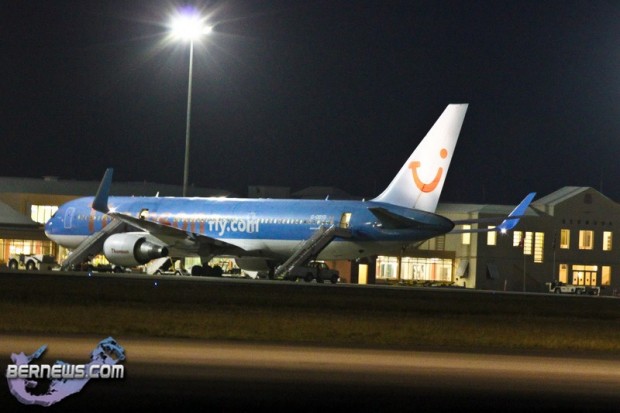 About 6:30 p.m. on 5 November 2010, a Thomson Airways flight en route from England to the Dominican Republic with 278 passengers and nine crew onboard, diverted to Bermuda as a result of a disruptive female passenger who became so out of control she had to be restrained by crew and passengers.
On arrival of the plane, local police officers went onboard and arrested 45-year-old Carol Close who police said was "still acting in a disorderly manner and using profanity." Passengers were so relieved to be rid of Ms Close they cheered when police officers boarded to arrest her.
Ms Close being led away by police officers after being taken off the plane: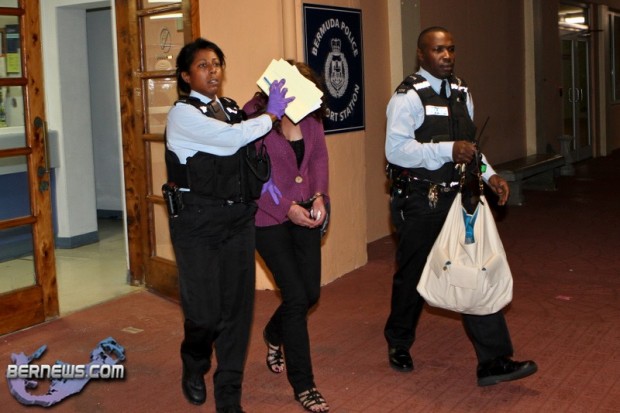 She was arrested under the provisions of the Aviation Security & Piracy [Overseas Territories] Order 2000 and detained at a local police station, before being flown out of the island three days later on a commercial flight under the escort of two Bermuda Police Service officers.
Ms Close pleaded guilty in a U.K. Court to two charges of assault, and a further charge of affray and was given a six-month jail term suspended for 18 months.
The Court heard she had bit, kicked and punched flight attendants, and her behaviour became so bad that passengers sitting nearby had to be moved for safety reasons and she had to be forcibly restrained.
Ms Close was also ordered to pay £2,476 [around $4,100] to the Bermuda Police Service due to the costs they incurred by having to escort her back to the U.K.
Unlike the Sunwing case which saw the passengers disembark and overnight in Bermuda, the Thomson airlines passengers did not disembark in 2010, with the flight carrying on to its destination after Ms Close was removed by the police officers.
Read More About