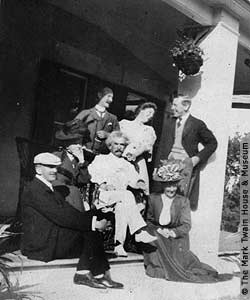 A real Bermuda encounter between Mark Twain and future US President Woodrow Wilson — seen here together at Bay House on Pitts Bay in 1908 — has been incorporated into a broad tapestry of nightmarish horror by acclaimed American novelist and essayist Joyce Carol Oates.
The two men met when Wilson — then president of Princeton University — was vacationing on the island for health reasons; Mark Twain [born Samuel Langhorne Clemens] spent considerable periods in Bermuda between 1907 and his death in 1910.
Wilson [1856–1924] was elected President of the United States in 1912 in a campaign marred by suggestions that he had an extramarital affair in Bermuda with American socialite Mary Allen Hulbert Peck.
Narrowly re-elected to the White House in 1916, Woodrow Wilson took America into World War One in 1917. He suffered a debilitating stroke in 1919 and spent the final years of his life semi-incapacitated as a result.
In her new critically acclaimed bestseller "The Accursed" — described by NPR as "a sprawling tale of terrible events afflicting Princeton high society" in the early 20th century — Ms Oates dedicates a chapter to the Bermuda meeting between Wilson and Mark Twain.
One critic says the "interlude in Bermuda wherein Woodrow Wilson [meets] the very funny, if cruel and cutting Samuel Langhorne Clemens" is one of the most memorable and historically fascinating vignettes in the book.
In the novel Mark Twain calculatedly undermines Wilson's puritanism, promoting a flirtation with their seductive hostess during the Bermuda vacation.
"Joyce Carol Oates has written what may be the world's first postmodern Gothic novel: E. L. Doctorow's 'Ragtime' set in Dracula's castle," said a "New York Times" reviewer. "It's dense, challenging, problematic, horrifying, funny, prolix and full of crazy people. You should read it."
Ms Oates, nominated for the Pulitzer Prize three times and a winner of the National Book Award, has taught writing at Princeton since 1978; she uses supernatural devices in "The Accursed" to highlight the more prosaic nature of the "curse" supposedly afflicting the New Jersey university town.
"Running like a black thread throughout the many stories in 'The Accursed' are disturbing accounts of racial violence, class warfare, religious prejudice and misogyny," said National Public Radio. "Oates' real monsters are not [ghosts and hobgoblins] or even the mesmerising Wallachian count whom the reader cannot help but compare to Dracula, but the members of Princeton's beau monde, who preach from their pulpits and judge without compassion."
In interviews, she has said Woodrow Wilson was "highly bigoted, contemptuous of women's suffrage as he was of 'Negroes,' but he was not a monster so much as representative of his era. The novel explores the tragic limitations of the era's Christian leaders — and the rise of a younger generation with an interest in social justice, egalitarianism, women's rights and evolution."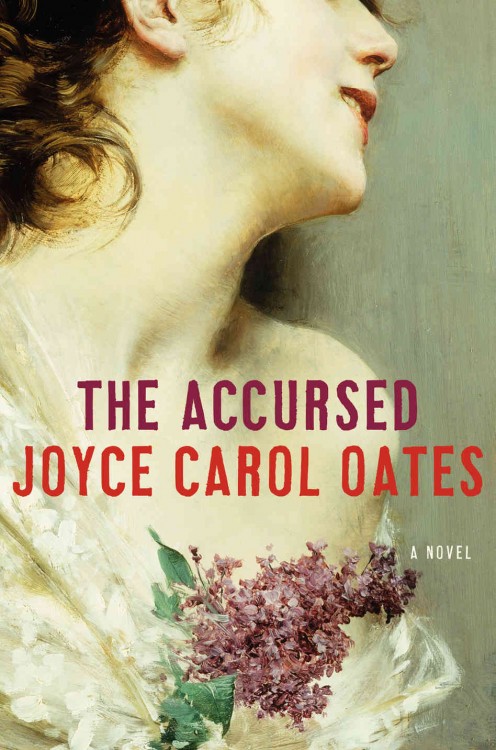 Wilson — who replaced Bermudian educator and theologian Francis Landey Patton [1843-1932]  to become  the thirteenth president of Princeton University — spent a number of holidays here  and in reality his meetings with Mark Twain helped lead the island to ban motorised vehicles from its roads for the next 40 years.
"In 1900, automobiles were new everywhere, not just in Bermuda," said Bermuda railway historian Simon Horn. "As cars became more common in the United States and Britain, a small but growing number were brought into Bermuda. By 1905, even a motorised omnibus, the 'Scarlet Runner', was imported and could be seen ferrying passengers from Hamilton to Tuckers Town or the South Shore
"The bus was not popular, especially with the livery stable owners. As the purveyors of Bermuda's only form of land transportation, aside from bicycles or feet, the stable owners claimed that the 'Scarlet Runner' frightened the horses and made the roads unsafe. This reaction was perhaps to be expected."
Mr. Horn said negative responses also came from another quarter —  Bermuda's well-heeled tourists.
"The rich Americans who came to Bermuda did so to get away from the bustle of the U.S. east coast, where motorized traffic was becoming commonplace," he said. "Letters to the Editor in Bermuda's daily 'Royal Gazette and Colonist Daily' lamented the potential destruction of Bermuda's special charm that "motors" might bring. The message soon became clear: if automobiles were allowed in the 'Isles of Rest', visitors might have to find somewhere else to spend their winters.
"Early in 1908, Mark Twain, a frequent and enthusiastic visitor to Bermuda, convinced another illustrious tourist, soon-to-be US President Woodrow Wilson, to circulate a petition calling on the colonial government to ban the motor car and protect their island paradise. 111 visitors signed. Within a few months, encouraged by the petition and the pressure of certain influential members, the Bermuda House of Assembly narrowly passed the Motor Car Act of 1908, banning all private motor vehicles from the island. Banned they would remain until 1946."
Read More About
Category: All, Entertainment