[Updated] Good Friday has started off with cold, windy and sometimes wet conditions, and the Bermuda Weather Service issued a Thunderstorm Advisory valid from this morning [Mar 29] through tonight.
However some people are braving the weather conditions and making their way to various Good Friday events being held around the island. Horseshoe Bay, where KiteFest is being held, is pictured below as of around 11am.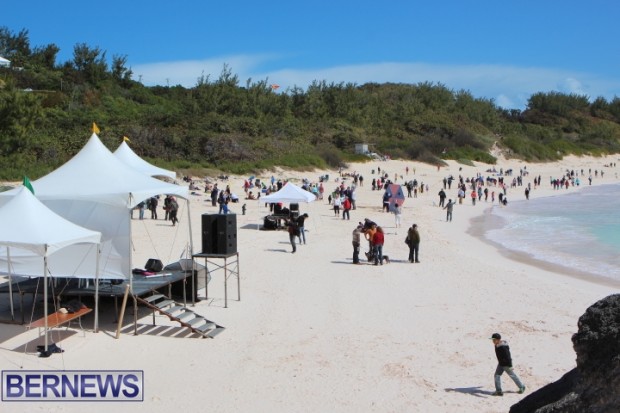 Update 11.23am: When asked about the temperature and unofficial reports of hail, BWS meteorologist Jeff L. Torgerson said, "The temperature this morning reached a low of 52.5 degrees F, breaking the previous daily record for March 29th of 53.0F set in 1959.
"Daily records are not altogether uncommon, and generally occur when early morning shower activity brings a down rush of colder air to the surface from aloft.
"We certainly have a cold airmass in place on strong northwesterly winds, and it's even colder just above the surface. With strong downdrafts, some of the frozen water droplets in the taller rain clouds are not able to completely melt out, which accounts for the small hail observed in a couple of areas this morning.
"We advise the public to dress warmly and keep a rain jacket handy today and Saturday, with unseasonably cool temperatures expected to gradually begin warming from Easter Sunday. We also wish everyone enjoyment over the holiday!"
Read More About
Category: All