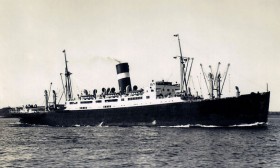 Seized in Bermuda during World War Two [1939-1945] as part of a priceless collection of Impressionist and Post-Impressionist art being shipped to the US to raise money for Nazi espionage activities in North America, a long-lost watercolour by Paul Cézanne has re-surfaced in Canada's National Gallery in Ottawa.
The painting "Groupe d'arbres" ["Group of Trees"] has been located in a vault in the gallery's curatorial wing, the last remnant of a vast collection of art including works by Renoir, Gauguin, Degas, Picasso and others which, after being confiscated by the British Secret Intelligence Service in Bermuda, was later sent to Canada to escape the island's withering humidity
"In October, 1940, the famous Vollard collection of impressionist paintings worth hundreds of thousands of dollars was consigned by the Vichy authorities [in German-occupied France -- a Nazi puppet state which maintained diplomatic relations with the US] to a French art expert in New York named Martin Fabiani," said H. Montgomery Hyde, the British Secret Intelligence Service Military Liaison & Security Officer in Bermuda from 1940 to 1941. "There was reason to believe that Fabiani was acting on German instructions and intended to sell the collection to secure dollar exchange for Hitler.
"The consignment, which consisted of 270 paintings and drawings by Renoir, thirty paintings by Cezanne, twelve by Gauguin, seven by Degas and also some by Manet, Monet and Picasso, had been in various Paris museums, whence the British Ministry of Economic Warfare feared that they had been abstracted.
The paintings were shipped from Lisbon for New York aboard the American Export Lines' "Excalibur" [pictured at top], which was brought into Bermuda by the wartime British Contraband Control.
"Meanwhile instructions had been received from London to remove the contraband cargo," said Mr. Hyde. "It fell to the writer of these pages to carry out this operation in defiance of the vessel's master who refused to open the strong-room where the precious packing cases reposed.
Paul Cézanne's "Groupe d'arbres", seized in Bermuda in 1940, has resurfaced in Canada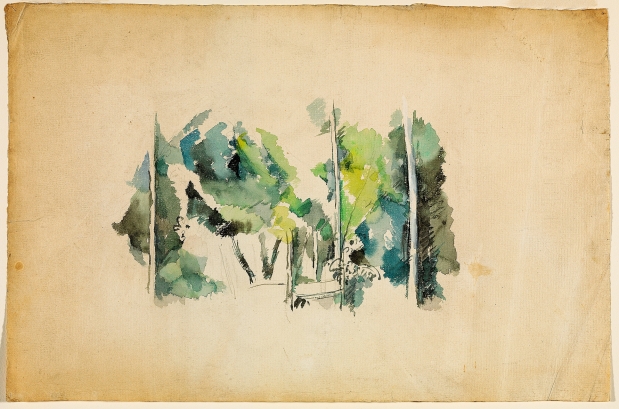 "This was eventually accomplished by blasting a way in with oxy-acetylene flame burners, and the pictures were removed. So as to avoid the effects of the Bermuda climate, they were sent to Ottawa, where they were kept for the duration of the war in the Canadian National Gallery, having in the meantime been condemned as prize [of war]."
For the next eight and a half years, the Vollard Collection sat in storage inside the Victoria Museum Building on McLeod Street, then home to Canada's National Gallery.
In February 1948, Mr. Fabiani — who had been arrested and fined by French authorities at the end of World War Two for collaborating with the enemy and dealing in Nazi-looting art — applied to Canada to have the collection released to him.
On April 29, 1949, the High Court of Justice of Great Britain Admiralty Division endorsed the earlier ruling of a French court and ordered the collection in Ottawa be divided and returned, with one-quarter going to the sisters of dealer and collector Ambroise Vollard — who had amassed the collection — and three-quarters to Mr. Fabiani. It is not clear whether the ruling was intended to punish Mr. Fabiani for his wartime association with the Germans.
"But the Cézanne landscape, circa 1890, was somehow left behind," reports the "Ottawa Citizen" newspaper today [Apr. 20]. "Over the years, it slipped into a deep curatorial void. The authoritative 1983 catalogue raisonné of Cézanne's watercolours says its whereabouts is 'unknown'."
Marc Mayer, gallery director and CEO of Canada's National Gallery, told the newspaper: "I have no idea why it was orphaned, but we're kind of left with this mystery to resolve …
"It's a very, very, very complicated file. This is probably the most mysterious of all the files that we have of things that are here [but] who we don't know the owner of. We have never pretended to own it and we don't pretend to own it. Until a rightful owner emerges, we just take care of it."
French post-Impressionist painter Paul Cézanne [1839–1906] laid the foundations of the transition from the 19th-century conception of artistic endeavour to a new and radically different world of art in the 20th century.
He can be said to form the bridge between late 19th-century Impressionism and the early 20th century's new line of artistic enquiry, Cubism. Both Matisse and Picasso are said to have remarked that Cézanne "is the father of us all."
Another Cézanne watercolour not seen in public for 53 years re-emerged from a private collection in Texas last year and sold at auction for $19.1 million.
Read More About
Category: All, Entertainment, History