[Updated with video] The Spending and Government Efficiency [SAGE] Commission Chairman Brian Duperreault introduced the chairs of committees this morning [Apr 22], and announced that financial awards of $2,500 each will be awarded to those from different sectors with the best ideas.
Former Premier Dame Jennifer Smith, Martha Dismont, Tom Conyers and Henry Smith will serve as Committee Chairpersons.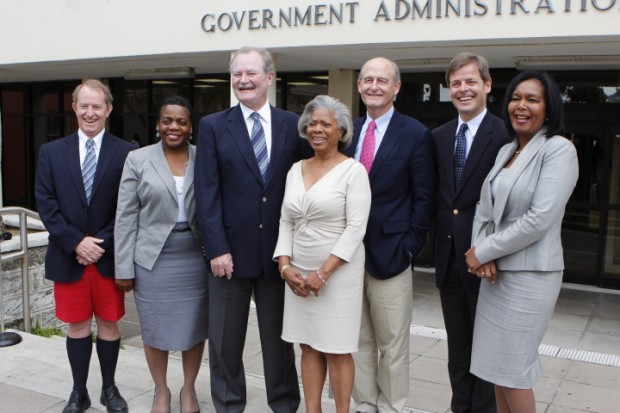 Mr. Duperreault said, "We've set up four committees: the Streamline Committee, which will be chaired by Dame Jennifer Smith; the Performance Committee, which will be chaired by Martha Dismont; the Measurement and Metrics Committee, which will be chaired by Tom Conyers; and the Privatisation and Outsourcing Committee, which will be chaired by Henry Smith.
"I want to thank each of these dedicated Bermudians for giving their time and talent to this important exercise. They have a lot to do by our deadline of October 1, and I'm already impressed with the energy they're bringing to this task.
"They understand, as does each member of the Commission, that Bermuda is in a dire financial situation and that something has to be done to get us out of what is an untenable position."
Mr. Duperreault explained that each committee has a specific area of focus: "The Streamline Committee will review, assess and recommend a redesign for the organisational structure of Government. This may include streamlining, consolidating or eliminating redundant and unnecessary agencies, authorities and other bodies that have overlapping missions.
"The Performance Committee will identify operational improvements aimed at cost effectiveness and improved service quality. This may include shared services, enhanced use of Information Technology and changes in the way services are delivered.
"The Measurement and Metrics Committee will identify metrics and performance targets and other means for measuring efficiencies and enhancing accountability to the Public; and
"The Privatisation and Outsourcing Committee will identify Government services that may better be provided by the private sector.
"Each committee chair is currently finalizing the members of their committees. The membership of these committees will be broadly representative of the Bermuda community."
Mr. Duperreault said that a web site has been launched at www.sagecommission.bm to explain the objectives of the SAGE Commission, provide a schedule for Commission activity and invite submissions from the public.
"Our commitment is to be transparent and inclusive as we tackle this review. We can't do this by ourselves. We want to hear from anyone who has an idea about how to make Government more modern, efficient and accountable.
"We've created a portal on the web site that provides for confidential submissions. We'll be having public meetings next month for anyone who wants to come and share their suggestions. We'll also meet with anyone in private if that's the preference."
Mr. Duperreault said that to encourage participation in the review exercise, the Commission has created an awards programme that provides for financial awards for the best submissions in four categories.
"We believe that some of the best ideas for how to create a modern, efficient and accountable government are likely to come from Government employees and from the public.
"We want to acknowledge the time and effort it will take for innovative ideas to be submitted to the Commission, so we've set up an awards programme. These financial rewards, which have been donated by the private sector, are meant to serve as an incentive as well as a public recognition of the manner in which the Bermuda community pulled together to help secure Bermuda's future."
Mr. Duperreault explained that four awards, each with a value of $2500, will be awarded to the best idea coming from an employee of Government; a member of the public; a young person between the ages of 18-25 years; and a youth under the age of 18 years. An award of $10,000 will be given to the best submission overall.
Mr. Duperreault concluded his remarks by saying: "We're just beginning what will be a comprehensive review of how our government works. There have been other reviews of government, but we believe this is the first in which everyone can participate if they want to.
"Let's do this together so that our children, and our grandchildren, and our great grandchildren, inherit a country that functions at the highest level for the greater good.
"Bermuda has always been proud of its reputation for excellence. We've built superior tourism and international business industries, both of which will benefit if this review is effective. Why shouldn't we have the best government in the world? Let's aim high. We can do this if we all pull together," concluded Mr. Duperreault.
You can visit the SAGE Commission's website for additional details.
Read More About