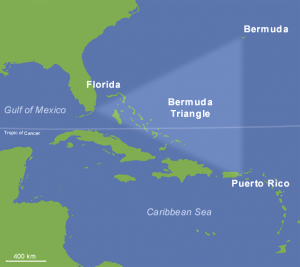 Hollywood studio Warner Brothers has closed a mid-six figure deal for "The Bermuda Triangle", an original script by "12 Rounds" screenwriter Daniel Kunka.
While the plot is being kept under wraps, the Deadline Hollywood entertainment website reports the intention is "to use the Bermuda Triangle mythology – planes and ships mysteriously vanishing — and turn it into a tent pole action franchise."
The film will be a co-production between Atlas Entertainment and Madhouse Entertainment. Atlas's Charles Roven and Richard Suckle will produce with Madhouse's Adam Kolbrenner. Andy Horwitz of Atlas and Robyn Meisinger of Madhouse executive producing. Jon Berg will shepherd the project at Warner Brothers, which will distribute the finished film.
Prolific screenwriter Mr. Kunka most recently sold "Crime Of The Century" to Universal with Dan Trachtenberg directing and Chris Morgan producing, and he also sold "Agent Ox" to Sony Pictures and Original Film.
Atlas has the Superman franchise relaunch "Man Of Steel" coming this summer; Madhouse is producing the Hugh Jackman-Jake Gyllenhaal picture "Prisoners" for Alcon Entertainment.
The Bermuda Triangle has become one of  Hollywood's hottest properties in recent years, with at least six major film projects announced that are due to be set in the mysterious stretch of Atlantic bounded by the island, Miami and Puerto Rico.
One multi-million fantasy film with a Bermuda Triangle-themed plot — Percy Jackson: Sea of Monsters – will be released in August.
The term "Bermuda Triangle" was coined in the February, 1964 issue of "Argosy"; the magazine carried an article by Vincent Gaddis entitled "The Deadly Bermuda Triangle" which argued that  the US Navy's Flight 19 and other disappearances were part of a pattern of strange events in the region.
Category: All, Entertainment, Films/Movies