The Spending and Government Efficiency [SAGE] Commission held a public meeting last night [May 28] at Penno's Wharf in St. George's to hear ideas from the public to help the Government reduce spending.
SAGE Commission Chairman Brian Duperreault said the meetings were organized to offer the public an opportunity to share their ideas for reducing the cost of running the Bermuda government and for increasing its accountability.
"It's your meeting," said Mr Duperreault. "Tell us what ideas you have."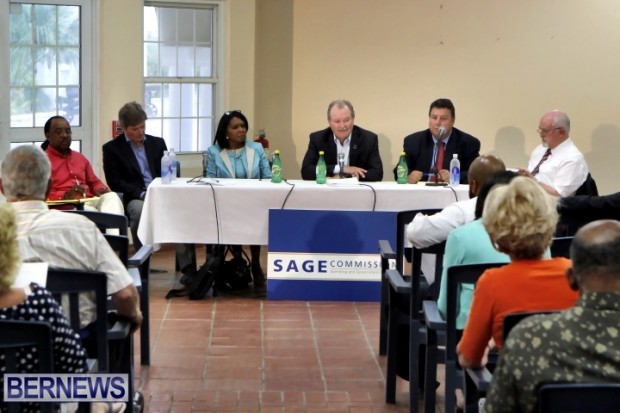 Saying "before we can spend money, we have to earn it," one man said the most important thing Bermuda has to do is earn foreign exchange.
"We have done a lot to discourage foreign people and companies from coming here, and we have to turn that around," he said.
Two attendees, speaking separately, suggested making greater use of technology to reduce spending, saying that increasing e-Government capabilities will reduce costs.
One lady in the audience suggested that a hiring freeze should be instituted in the civil service, a suggestion which earned applause from some of those in attendance.
Another man said ferries often do not tie up at the docks and instead run the engines for around 30 minutes, which he called an "astronomical fuel burn."
45-minute video of Part #1:
Another attendee mentioned the Government subsidy for airlines calling it "totally out of order." He suggested that rather than give cash to airlines, we should instead use that money to fund airline tickets for visitors to come to Bermuda.
One lady asked if their was any thought to consolidation of schools, as well as use of Government cell phones and cars. "There is a lot of fat that can be trimmed before we start slashing salaries," she said.
One man said we need to focus on the revenue side, saying we have "excellent opportunities" we need to take advantage of. "We are talking about cutting, cutting, cutting – but we need to look at revenue," he said.
The next man to speak agreed with the prior speaker, saying perhaps there could be another committee to look at ways to boost revenue.
The panel agreed with those points, but explained their mandate is to look at increasing efficiency. One panel member said that as the budget deficit is over $300 million we cannot "cut our way" out of that, and must also boost revenue.
56-minute video of Part #2:
Another lady said she was "astonished" by the "top heavy" nature of the Government, saying the high level of senior management isn't sustainable.
She also said there seems to be a "fear of technology" within Government. Speaking on the cost of healthcare, she said we need to focus on preventative measures to reduce costs in those areas.
Ideas for reducing Government spending can also be submitted to the SAGE Commission via their website.
Read More About