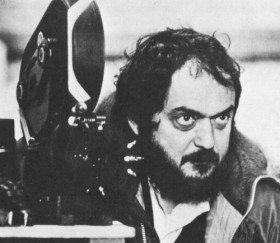 The life and work of one of the most acclaimed and controversial filmmakers of all time will be looked at in close-up when the Bermuda College holds a special screening of the 2001 documentary "Stanley Kubrick: A Life In Pictures" on Thursday [May 16].
Mr. Kubrick [1928–1999] — pictured here — was an American film director, screenwriter, producer, cinematographer and editor who spent most of his career in the United Kingdom.
His films — which include "Lolita", "Dr. Strangelove" and "The Shining" — are noted for their striking cinematography, meticulous attention to detail and inspired use of musical scores.
The documentary's director Jan Harlan – Stanley Kubrick's long time producer, collaborator and brother-in- law — is currently on island to teach a screenwriting workshop in association with award-winning Bermudian documentarian Lucinda Spurling.
"During the week he is here, Mr. Harlan has agreed to screen the 2001 documentary he wrote and directed about Kubrick's life and his life's work for the public with a Question and Answer session afterwards," said Ms Spurling.
"If you are a fan of such films as 'The Shining', 'Full Metal Jacket',  'A Clockwork Orange' and '2001: A Space Odyssey',  the documentary 'Stanley Kubrick: A Life In Pictures' takes a behind-the-scenes look at how they were made while also providing an intimate portrait of the famously retiring and publicity-shy film director."
Family, friends and such collaborators as Tom Cruise, Arthur C. Clarke, Malcolm McDowell, Peter Ustinov and Jack Nicholson are  interviewed in the feature-length documentary along with filmmakers who were inspired by Mr. Kubrick including Martin Scorsese, Woody Allen and Steven Spielberg.
Tickets — which can be purchased online at PTIX.bm – are $20 and all proceeds go to support scholarships for the Screenwriting in Paradise Workshop.
The screening will take place at the Bermuda College's North Hall in Room G301 from 6.30 p.m. until 8 p.m.
Trailer for "Stanley Kubrick: A Life In Pictures"
Read More About
Category: All, Entertainment