Yesterday [May 29], the Minister of Public Safety Michael Dunkley attended the Police Training Centre at Prospect to visit with the Bermuda Police Service's 15 student officers. The Minister was joined by Senator Jeffrey Barron, Junior Minister for Public Safety and Legal Affairs.
The eight men and seven women are taking part in a 16-week training course at Police Headquarters in Prospect. Yesterday they were undergoing training on Recruit Foundation Course #75.
During his visit, the Minister took the opportunity to sit in on a class and to share some words of encouragement with the new recruits. He also thanked them for making the choice to protect and serve their community.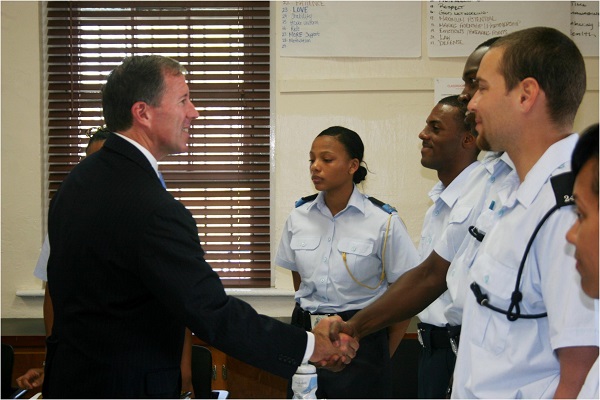 "Being a Police Officer is a very noble profession," Minister Dunkley said. "It takes dedication and commitment. You protect and serve and respond to calls for help and you are on the front lines of safeguarding our community."
Minister Dunkley added, "We have much work to do as a Government, as a community and as a Police Service in addressing the anti-social behaviours, crime and violence that we face. But I believe that you are more than up to the task, and I know the public will be very grateful for all your efforts on their behalf.
"On behalf of the Ministry of Public Safety, I commend your dedication and I thank you for making the choice to become an Officer with the Bermuda Police Service."
Read More About