Premier Michael Dunkley and Junior Minister for National Security Senator Jeff Baron met with staff at the Four Star Pizza Restaurant in Warwick today [Dec 28] following the robbery that took place on Saturday.
Senator Jeff Baron said, "This afternoon the Premier and I visited Four Star Pizza at the Warwick Workmen's Club to show our support for the staff following Saturday night's armed robbery. In addition, the Premier has spoken with the owner.
"I appeal to anyone who might have seen anything suspicious in the area at the time to report it to the Police or to Crime Stoppers at 800-8477. If you see something, then say something.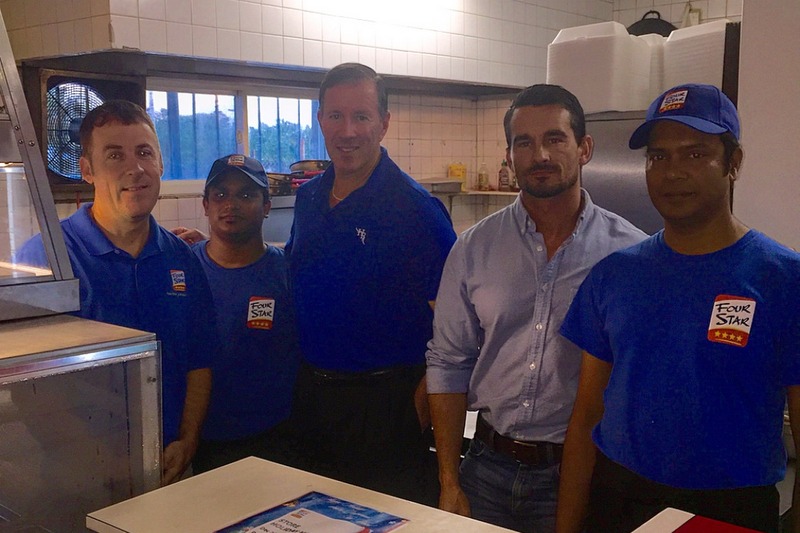 "Crime, no matter where it occurs, no matter who it hurts or why it happens, is something all right-thinking people condemn and decent governments everywhere work to prevent.
"In that vein, the Bermuda Police Service has our support as it continues every day doing its best for the sake of the community. Its officers are doing a great job.
"For Mr. Walter Roban, PLP Home Affairs critic, to then use Saturday's robbery to attack the Government as an accessory to the crime is a shameful political intrusion into a disturbing incident that happened to innocent, on-the­ job Bermudians.
"It is an example of a distorting politics ­first approach to community business that helps no one."
Read More About