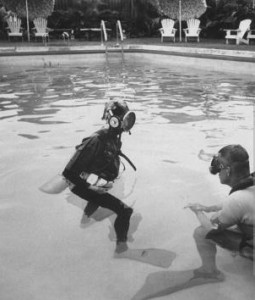 Clare Boothe Luce was a women of many firsts — the first female to hold a major US ambassadorial post, one of the first to serve in Congress and the first to crash the cozy boys' clubs that were the Broadway and Hollywood writing communities in the 1930s.
She was also one of the first women in the world to take up skin diving when she explored the " liquid blue jungle" of  Bermuda's coral reef in 1957 and instantly became a convert to — and evangelist for — the new recreational activity which had followed on from the development of the the first modern Scuba [self-contained underwater breathing appartus] equipment a few years earlier.
Renowned for her Martini-dry wit ["No good deed goes unpunished", "Widowhood is a fringe benefit of marriage", "A hospital is no place to be sick"] Ms Luce [1903-1987] was appointed US ambassador to Italy in 1953, the first American woman to represent her country to another major world power.
Married to "Time", "Fortune" and "Life" publisher Henry Luce, the one-time journalist first became widely known as a playwright ["The Women"] and Hollywood scenarist ["Come To The Stable"] and later as a war correspondent before being elected to the US House of Representatives in 1942.
Fascinated by the growing interest in skin diving –it had become a $30 million industry by 1957 — Ms Luce visited Bermuda in 1957 and enrolled for lessons with local dive instructor Park Breck [they are pictured together at top as Ms Boothe trains in a swimming pool].
"I was in Bermuda 16 days," she later recalled in a "Sports Illustrated" account of her introduction to recreational diving. "Fourteen of them ranged from drizzly and bad to torrential and foul.
"They were not days on which an experienced and prudent instructor like Park Breck would take a rank amateur diver into the open sea.
"We continued to make shallow dives in the coves from sheltered beaches. I learned to clear my mask under water, to make the proper underwater signals, to judge how many weights I needed in order to sink or rise without fighting the water."
Eventually she graduated to diving on the 17th century wreck "Elizabeth" and the yacht "Elda" which went down after sinking during the 1956 Newport-Bermuda race.
Clare Boothe Luce diving on Bermuda's coral reefs in 1957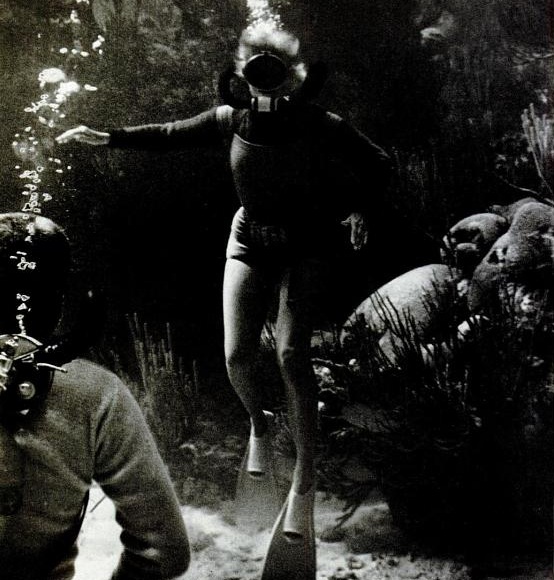 "There, 20 feet below, lies the liquid blue jungle of the barrier reef," Ms Luce said in her "Sports Illustrated" article. "The world of madrepores and polyps, where everything is endlessly living and endlessly dying to make the fretted vaults and cloistered crannies of the reefs, of rose coral, star coral and brain coral, coral with antlers and horns, coral formed like tree stumps, anemones and sponges; and crustaceans, worms and fishes … And there in the midst of this wild calm jungle, lying 10 feet deeper, I see a lovely sandy cave.
"Along its walls the waving purple fronds of the sea's fans beckon me in…. I glide down to the cave slowly, at a gentle plane. I can see a hundred feet in every direction. As far as I can see, the colors are Gauguin's and Cézanne's and Seurat's. Beyond, the dark blue-green sea belongs to Dufy and Chagall. I'm almost on the cave. I throw back my head and my flippers' tips touch the shining floor.
"I feel like a bird lighting on a bough. I sink to the bottom of the cave and, lolling, look up at the even feathers of bubbles which fly up from my neck, expanding as they go into shining silver mushrooms, little pearly parachutes, seeking the far sun."
Ms Luce remained absorbed with scuba diving for the rest of her life, travelling to dive destinations all over the world. She later commemorated her introduction to recreational diving in a short limerick she dedicated to Bermuda's Park Breck and his wife Jeanne.
 Said a scuba instructor called Breck,
"Never drink when you dive on a wreck.
For the loss of sobriety
Will destroy your aquiety.
And you'll end with the bends on the deck."
Her scuba instructor said, "Clare,
Underwater, whatever you wear,
The best mask, a best flipper
Won't make you a kipper—You must surface sometime for air."
Read More About
Category: All, Environment, History