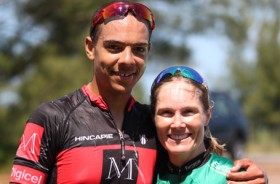 The RMS Construction Road Race Championship took place on Sunday morning [June 16], with Dominique Mayho and Karen Bordage winning the Open Divisions, while Deshi Smith and Gabriella Arnold claiming victory in the Junior Divisions.
A total of 82 competitors across all categories started the races by Clearwater Beach, and raced along a 10.8 mile circuit that took the field up to the roundabout by the Swizzle Inn and then back into St. David's to the lighthouse and down to the beach.
The Open Male race was 65 miles, Junior Male 43 miles, Open Female 32.4 miles and Junior Female 21.6 miles.
Dominique Mayho from Team Madison powered his way on the last straight overtaking Shannon Lawrence 100 yard from the finish line. Lawrence worked hard to pull a break back on the last lap but ran out of gas just before the finish line.
Following the race Mayho said, "I am feeling it now after not riding for two weeks has made this hard work, my body locked up just as I was coming across the finish line, but overall I am happy with my performance."
Mayho clocked 2:49:56.195, Lawrence crossed the line second in 2:49:56.461 and Winners Edge rider Darren Glasford finished third in a time of 2:50:00.237.
The Men's Open race was marred by a crash with two laps to go, with multiple riders were involved.
Winners Edge rider Karen Bordage won the Open Female race with a time of 1:34:46.761, "Bordage said, "I decided to make my move up by the Lighthouse and I kept looking back thinking someone was going to come but I was able to hold everyone off."
Bordage's teammate Zoenique Williams finished second with a time of 1:34:54.143 and Laurie Orchard from Fast Forward Bicycle Works finished third with a time of 1:34:54.548.
The Junior Male title went to Deshi Smith from Team Tokio who clocked a time of 2:05:34.410, Justin Ferreira from Winners Edge finished second in a time of 2:05:34.779 and Nico Barclay finished third in a time of 2:05:36.004.
Gabriella Arnold from Winners Edge won the Junior Female rce with a time of 1:04:09.891, Tokio rider Kamryn Minors finished second clocking 1:07:02.893 and Victoria Davis from Winers Edge finished third clocking a time of 1:10:39.679.
The full results are below [PDF here]
Read More About