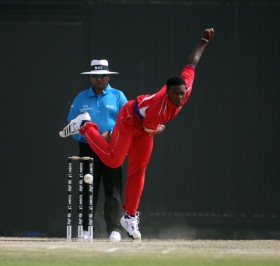 The Bermuda Cricket Board announced that Kamau Leverock has been chosen to bowl to the Australian and England teams in the lead up to the 2nd Ashes test to be held at Lords between the 18th and 22nd July.
He will have an opportunity to bowl against the best batsmen in the world at the home of cricket in the lead up to what is seen in many cricket circles as the most important Test series played.
Kamau is currently training and playing at Horsham Cricket Club which is in the Sussex Premier League after receiving a National Junior Athlete Sponsorship Scholarship.
Kamau has expressed his excitement of such a prospect; "To have the chance to bowl to Test cricketers such as Alistair Cook, Kevin Pietersen, Jonathon Trott, Michael Clarke, Shane Watson and Brad Haddin will be a great opportunity to test my skill and see how the best cricketers in the world prepare for a contest such as an Ashes Test match.
"To also be able to watch world class fast bowlers like James Anderson, Stuart Broad, James Pattinson and Peter Siddle from such a close position, chat with them and to learn from what they do will be a great opportunity to see if I can develop some of their skills into my game."
Bermuda National Coach David Moore stated, "This is a wonderful opportunity for Kamau to continue to develop his game and compete against the best bastmen in the world in net conditions. These players will be priming themselves for a massive contest and they will be focused on their game and preparation. Test cricketers take net situations like match situations so bowling to these guys will be like bowling to them in a match.
"It will be a great test of his technical and mental skill and will give him a further understanding of what it takes to play cricket at the highest level. Knowing the landscape of these situations, it will be also a wonderful opportunity for Kamau to impress these test players and coaching staff and further develop his reputation in the UK. On tours of this magnitude most of the net bowlers chosen are at least Second XI or Academy players. This is a good indication of the level Kamau is at and I believe he can take opportunities like these and further develop his skill."
Coach Moore concluded by saying, "As a coach that has worked with Kamau I am very pleased for him and proud of the progress he is making. He is very passionate about cricket and is working hard to achieve his goals. He is committed to his game and self improvement as a cricketer and as a Bermudian and, as a product of the Bermuda Cricket Board National Academy, is a wonderful role model for the young cricketers in Bermuda, particularly the BCBNA athletes."
Read More About