Bermuda Motors announced today [June 11] that MINI will be one of the sponsors of the upcoming John Lennon Bermuda Peace Day Concert at the Botanical Gardens on September 21.
The 2nd Annual concert will celebrate World Peace Day by honouring the music of John Lennon and Bob Marley with performances by local and international artists.
Lennon in George Harrison's psychedelic MINI on the Magical Mystery Tour set: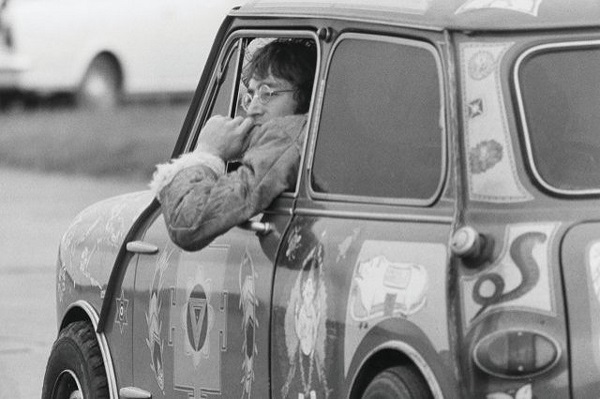 Michael Butler, General Manager of Bermuda Motors, said: "We're very excited about MINI being part of this great event. Last year's concert was fantastic and we look forward to enjoying another memorable night of music.
"Like John Lennon, the MINI's success was born in the 1960s and has become a much-loved global icon that remains as popular more than 50 years later. In fact in 1966, The Beatles manager Brian Epstein gave John and the other Beatles a MINI Cooper S as a gift.
"George Harrison famously decorated his MINI Cooper in psychedelic images. The car featured in the 1967 Beatles movie Magical Mystery Tour and still appears at vintage car shows. In 2009 to celebrate the company's 50th anniversary, MINI created a new one-off version of George's original to be auction by the Material World Charitable Foundation — a charity George founded in 1973."
Concert organiser Tony Brannon commented: "We are delighted to have MINI support the 2nd Lennon Bermuda Peace Day Concert. MINI has an historical connection with John and The Beatles, and as they sang, 'Baby You Can Drive My Car'!"
You can watch the full video set from last year's concert here.
Read More About
Category: All, Entertainment, Music