A native Jamaican now living in Bermuda, musician Nolan Brown — also known as "Missian" – uses a fusion of reggae and gospel to spread the word of God.
He will be holding a release concert for his second CD — titled "New Journey" — on June 28 featuring local artist Troy Anthony and other performers. The concert is being staged at the Heritage Worship Centre on Dundonald Street and gets underway at 7.30 p.m.
Born to a family of talented musicians and singers, Missian discovered his love and aptitude for music, at a very young age.
Driven by the call of God on his life and his deep love and passion for the music ministry, at age 23 he
was the founding member of a gospel singing group, Komplete.
A songwriter, and lead vocalist, Nolan found his niche in his group. Inspired by artists such as Papa San, Prodigal Son and Ernie Smith, Missian began his ministry with the primary goal of taking the gospel of Jesus Christ to the dancehalls and clubs.
Missian has performed at various events in the Caribbean including the popular JCDC competition [Jamaican
Cultural Development Competition] where he was a two-time gold medal winner.
He performed at the World Aids Day Concert in Jamaica in 2007 where artists such as Beenie Man and Christopher Martin also performed.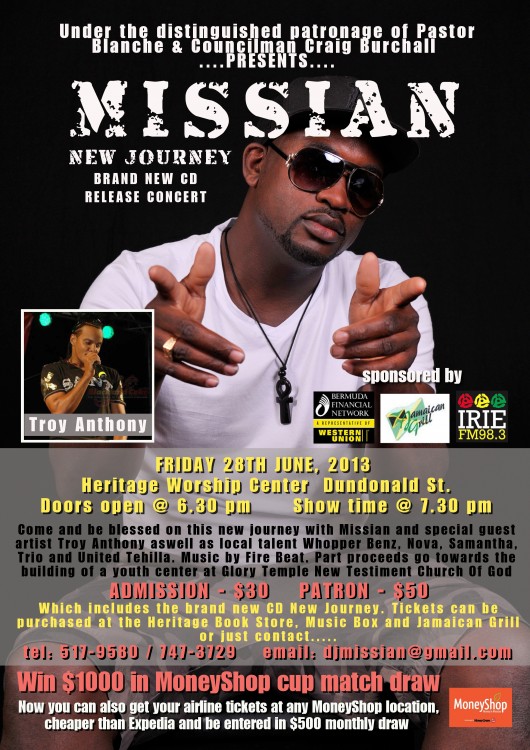 He has also performed at many concerts, shows and street events in Bermuda, opening for artists
such as Gyptian, Mary Mary, Vashawn Mitchell, Sunday Best Finalist and Runner Up : Y'yana Crawley and
Jessica Reedy, Septimus, Geneman and Troy Anthony to name a few.
Missian shared the stage with Dr. Bobby Jones at the Bermuda Music Festival which made headlines worldwide.
His debut album, entitled "Missian on a Mission" was released in 2011.
Read More About
Category: All, Entertainment, Music