WindReach Bermuda will be hosting its 4th Annual Archery Competition on Saturday [June 29] at WindReach Bermuda on Spice Hill in Warwick from 10am – 3pm. People of all ages and abilities are encouraged to take part in this fun event.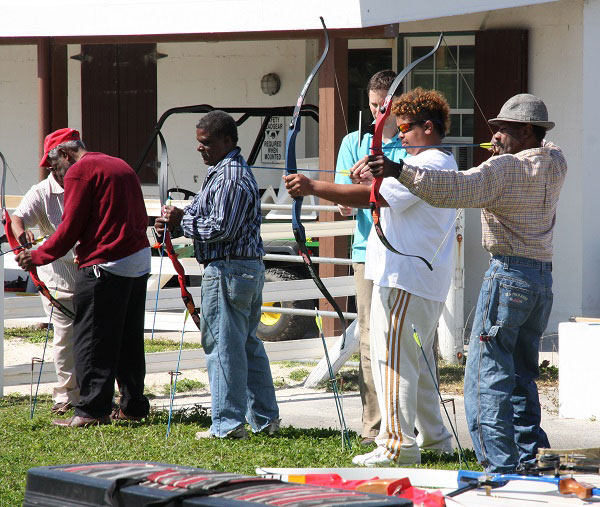 Archery is currently one of the sports offered through WindReach's Adaptive Sports Program which provides opportunities for people with special needs to engage in sport. People with a wide range of physical and intellectual disabilities, as well as seniors, currently participate in weekly archery sessions at Windreach and the sport is extremely popular.
Troy Farnsworth, WindReach Adaptive Sports Coordinator stated, "Archery is a sport which can be enjoyed by so many people. I have had children as young as 6 years old participating and my oldest archer to date has been 96.
"To see the excitement on people's faces when they hit the target is very satisfying and for many of our participants archery is such an important part of their week. Some of the benefits of archery include greater upper body strength and flexibility and improved concentration, confidence and self esteem. It is also a very sociable activity and a great way to develop new friendships in a fun environment.
"We are fortunate at WindReach to have a beautiful 4-acres property with lots of open space to enjoy the sport. We are also grateful to Rubis Ultra Tec who is the generous sponsors of this year's event."
Please contact Troy Farnsworth [Adaptive Sports Coordinator] on 238-2469 or email at tfarnsworth@windreach.bm if you are interested in the WindReach Adaptive Sports Program or would like to compete in the Archery Tournament. Visit here for more information.
Tournament registration is $20 per person.
A spokesperson said, "We have over 30 competitors registered so far, who range in age from as young as 6 years and up into their 90s. This is an inclusive event with competitors who have a range of abilities and may or may not have special needs."
Read More About