Eight youth members and five youth trainee coaches [13 total] of Bermuda's Brazilian Football School [BBFS] are continuing their education overseas, for the upcoming year 2013/14. Three will be off to university, two to junior college and the remainder will be completing their high school education.
A spokesperson said,"As BBFS continues to expand our services to Bermuda's youth, we remain committed to motivating our student athletes in furthering their education. The mission statement of BBFS is : To foster the mental, physical and emotional growth in youth through football, both nationally and internationally."
[L-R] D'Andre Wainwright, Jaylen Bean, Kane Crichlow, Jenay Pereira-Edness, D'Nye-Jha Sharrieff –Hayward.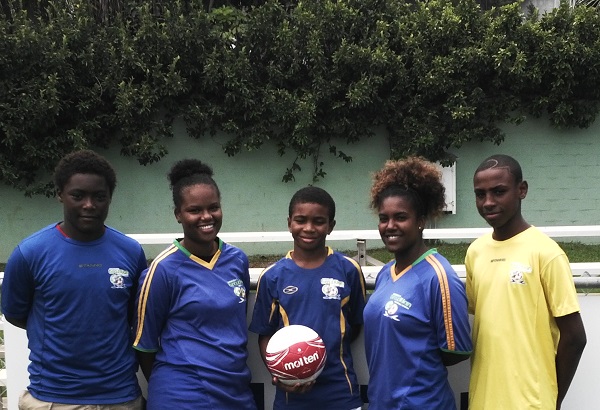 BBFS announced that the following members/trainee youth coaches will either return or travel overseas [Spain, UK, USA and Canada] for the first time, to follow their academic goals. "BBFS will aim to set up a bursary programme for our youth members [future] by 2015, to aid in offsetting the cost of their tuition".
D'Andre Wainwright
Jaylen Bean
Kane Crichlow
Jenay Pereira-Edness
D'Nye-Jha Sharrieff –Hayward
Cally Blankendal
San-Tze Burgess
Rahzir Smith-Jones
Chae Brangman
Kiuno Cann
Naquan Smith
Rahzir Smith-Jones
Jasmine Spence
The spokesperson added,"BBFS also wish to congratulate their parents and parent clubs, for aiding in their development Devonshire Colts Football Club, Western Stars Sports Club [Dandy Stars], North Village Community Club, Somerset Cricket Club, Devonshire Recreation Club, BAA and Hamilton Parish Workman's Club."
Read More About