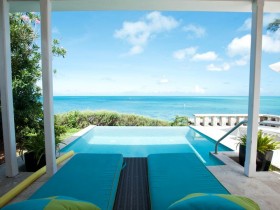 You thought the number 13 was unlucky? After winning a holiday to Bermuda, Martin Bradley could consider it his lucky charm. The 63 year-old has won a five-night stay for two, courtesy of Cambridge Beaches Resort & Spa in partnership with Harvey Nichols, Classic Collection Holidays and Travel Club Elite.
"It was a real bolt out of the blue," says Mr. Bradley, from County Durham. "I didn't think I would get a holiday this year- especially because my wife doesn't seem to get a lot of time to herself."
The number 13 has strangely cropped up in many aspects of Mr. Bradley's life. He and his wife, Jane, have lived at Number 13 in Chester Le Street, for over 25 years and before that their previous house number was Number 31, which reversed is 13.
There is 13 years difference between his two children, as there is between himself and his younger sister. In fact, his birth year of 49 even adds up to the number 13- with 13 letters in his name.
He and his wife opted not to have a honeymoon because they were busy creating a family home and a holiday this year, 2013, looked unlikely, too. They have been married for 31 years, which totals 13 when reversed, too. It was only when they were handed a car repair bill costing £1300 that they decided to enter the competition for a dream holiday to Bermuda.
Mr. Bradley's winning entry was no. 166, totalling up to- yes, you've guessed it- 13. The couple are now hoping to spend their holiday relaxing and enjoying their holiday at Cambridge Beaches in Bermuda.
"My wife intends to make full use of the spa and all the facilities to unwind, rest and recharge. I would love to go scuba diving, to explore the reefs," says Mr. Bradley.
"Our annual holiday usually consists of driving to France or occasionally Spain, with a couple of teenagers in tow, looking to be entertained all the time. We would never have considered Bermuda and winning this prize is just amazing. I still find it difficult to believe."
Read More About
Category: All