Tropical Storm Humberto became the first full-force storm of the season as it achieved hurricane status on Wednesday morning, avoiding setting a new record for the latest hurricane formation in the Atlantic season by only a few hours.
Now boasting sustained winds of more than 120 kilometres per hour, with gusts of up to 155 kilometres per hour, the storm is tracking slowly over the eastern Atlantic Ocean as it meanders its way in a northwesterly direction.
While it is expected to weaken over the coming days as it moves northward, thanks to cooler ocean temperatures, drier air, and an increase in wind shear, it is possible that Humberto will find itself downgraded back to tropical storm status; in any case, its track will see it miss Bermuda by a wide margin, with the serious weakening expected to take place disallowing it from being a threat to North America, as well.
Hurricane Humberto track map courtesy of the Bermuda Weather Service: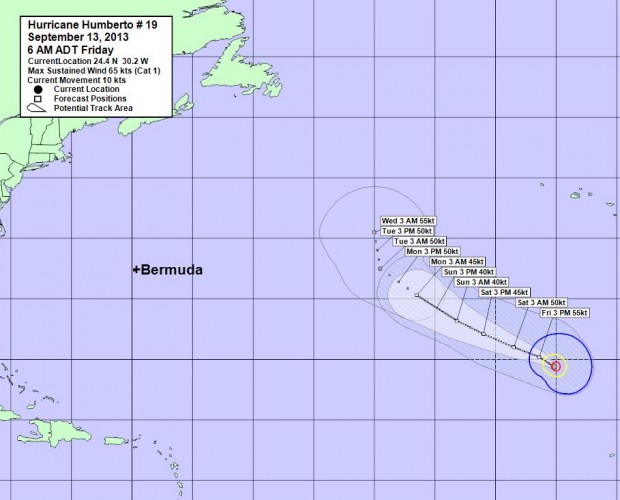 What's To Blame For The Season's Slow Start?
Prediction of tropical storms is obviously an inexact science, but improved satellite technology and scientific modeling capabilities have helped meteorologists to improve their craft greatly over the past decade, which begs the question: why did no one see this slow start coming?
While there are no exact answers to that question, one factor that scientists have identified as a contributing factor is unusually dry and dusty air blowing off of Africa's Sahara Desert and over the Atlantic; this dry, dusty air has served to impede several existing tropical storms, including Chantal, Dorian, and Erin, at a time when they would normally have utilized the eastern Atlantic's warm, moist air in order to gain hurricane strength.
Tropical Storm Gabrielle & Tropical Depression 10
After bringing wet and windy weather to Bermuda earlier this week, Tropical Storm Gabrielle has since moved far to the north and been downgraded to a tropical depression as it soaks the Canadian provinces of Nova Scotia and Newfoundland through Friday and Saturday.
The only other active storm in the Atlantic at the moment, dubbed Tropical Depression 10, is currently working its way up to tropical storm status in the Gulf of Mexico, with landfall on Mexico's eastern gulf coast expected to take place on Tuesday of next week.
Read More About
Category: All