The Bermuda Blood Donor Centre said they are pleased to announce the success of its Summer Blood Drive, which began on 10 June and ran through 30 August. Three hundred and sixty-one people donated during the drive with 60 of these being new donors.
While the need for donors remains constant throughout the year, the recent drive especially targeted college students returning home for the summer, as well as other young adults. Anyone donating blood during the blood drive was entered into a draw to win one of two cell phones, donated by Digicel Bermuda. The two winners, Richard Pully and Candace Foggo, were announced last Friday.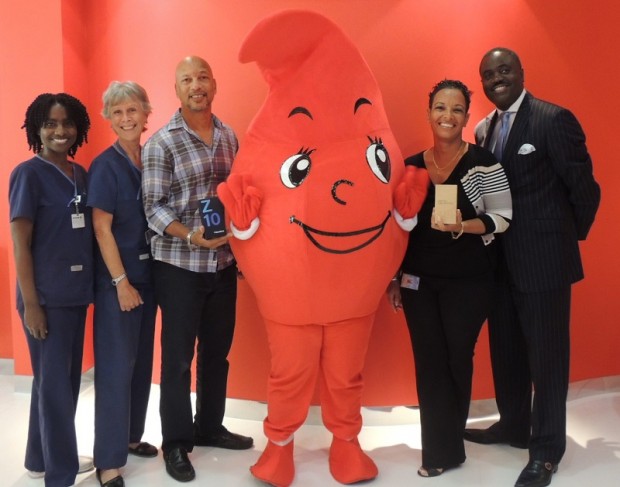 Currently, less than 2% of Bermuda's eligible population, or about 1100 people, are donors. The World Health Organization [WHO] indicates that in developed countries like Bermuda, about 6% of the population donates. WHO also reports that in many jurisdictions, 30% of donors are under the age of twenty-five. In Bermuda, less than 4% of our donors are under twenty-five.
Dr Eyitayo Fakunle, BHB Medical Director of the Blood Transfusion Service, said: "As our pool of donors grows older, we need to recruit younger people to replace them. While we are grateful to everyone who donates blood, we need people in their 20s and 30s to become blood donors. We are very pleased with the success of our Summer Blood Drive and to all who responded. We are especially grateful to Digicel for the support they provided."
Digicel Bermuda CEO, Wayne Caines, stated, "Digicel is happy to have encouraged people to donate blood. Two prize winners were randomly selected from 360 generous individuals who donated blood over the past few months. The real winners here, however, are the people whose lives have been saved by these donors with the help of the Bermuda Blood Donor Centre. A ready blood supply is crucial for immediate response to patients requiring transfusions and can make the difference between life and death. We hope these donors will continue to give blood and others will be encouraged to do the same."
The Bermuda Blood Donor Centre is responsible for providing a ready supply of life-saving blood to the hospital, which uses about 35 to 45 pints of blood each week. Donated blood is used for cancer patients, mothers and babies, accident victims, surgical patients and other people with anemia.
Dr. Fakunle adds: "We need 40 to 50 people every week to meet the needs of our patients. Our aim is to make blood available whenever doctors request it in the hospital. Blood donors give selflessly to save and improve the lives of people in our community who need blood. We believe there are many more people willing to become donors, especially when they realize it could be their family member or even they themselves, whose life needs saving. Donating blood is a simple, painless way to support our community and only takes about half an hour. But the satisfaction of knowing you have made a vital difference in the life of someone who is sick or injured can last a lifetime."
Contact the Blood Donor Centre at 236-5067 or email blood.donor@bhb.bm to learn about becoming a blood donor.
Read More About
Category: All