Bermuda's top paralympian Jessica Lewis is one step closer to her athletic goals, with Tokio Millennium Re signing on to be the sprinter's lead sponsor.
Ms Lewis — the first Bermudian track & field para-athlete to compete at the highest international level — said the sponsorship will allow her to concentrate on training and racing as she prepares towards qualification for the 2016 Paralympics in Brazil.
Anthi Xipolia, Victoria Clipper, Tokio CEO Tats Hoshina, Richard Prior, Stephen O'Flynn, Jessica Lewis, Eishnel Vidy, Windreach's Erica Fulton, Tina Booth: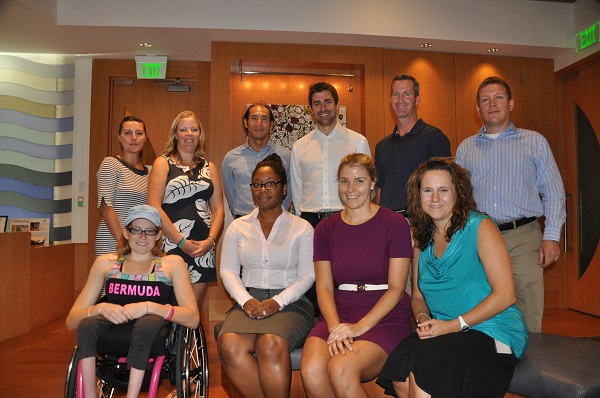 Ms Lewis said, "This a real honour. I am so happy that Tokio Millennium believes in my dreams and wants to help me achieve them. I've had a great support system from my family and friends, and now Tokio as well, and it just means the world to me. They are helping me push towards my goals.
"This is going to help me to go to races as now I won't have to worry about if I can afford to get there. I need to do as many races as I can because the experience is invaluable. It helps me become a better racer and get to know my competition."
Tokio CEO Tatsuhiko Hoshina, who is also an athlete, said Tokio has a history of supporting the community through sponsoring sports, kids and fitness.
"We sponsor Tyler Butterfield and we're now excited about sponsoring Jessica because she is definitely an inspiration and a role model – not just here in Bermuda, but worldwide. We saw this as a great opportunity to support her and Bermuda."
"We have been impressed by Jessica because of the effort she puts in. I have followed her through her career and she always tries to be better than the day before, which is what I always tell my colleagues — try to be better than you were the day before."
"On top of that, she is a role model for athletes: not just here in Bermuda, but worldwide," said Mr Hoshina.
Ms Lewis during the Opening Ceremony of the 2012 London Paralympics: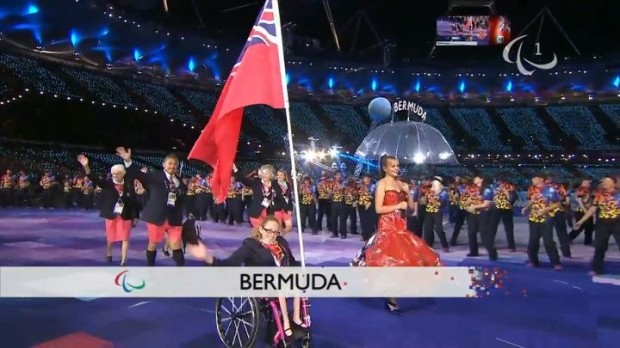 Tokio Millennium Re also announced their continued support of WindReach Bermuda. Tokio has backed WindReach's vision since 2007 both through financial sponsorship but also through its Annual Day of Giving.
Erica Fulton, Executive Director, WindReach Bermuda, said, "Tokio's sponsorship of both her organization and Jessica was much appreciated."
She said, "Jessica started coming to WindReach when she was just five years old. She is a great example of what WindReach can provide to our community with special needs, by introducing sports and other recreational activities to those who may not have been given these opportunities otherwise."
Ms Fulton said watching Ms Lewis compete at the Paralympics was "a great inspiration to all of us. Not everyone has Jessica's talent and drive, but it is important for people to see what they can aspire to. Jessica provides that for everybody, not just for people who come to WindReach."
She added that Tokio's continued sponsorship of the WindReach programme will further help others as they face their personal struggles.
Ms Lewis competing in the 100m at the 2013 World Championships in France:
Ms Fulton continued, "For some of our participants finding the motivation to get out of bed can be a challenge. If they can see what Jessica has achieved, it can sometimes help them to get through their front door and take those first steps towards participating in something like our Adaptive Sports Programme.
"Life can be a challenge for all of us. Jessica has shown perseverance and to be able to compete at a world level has shown tremendous dedication and hard work. That's her passion and that's helped her achieve all that she has so far."
Read More About