[Written by Talbot Wilson and Laurie Fullerton] In the very light and shifty conditions, the Semi Finals were delayed after only one race in each match. Sir Ben Ainslie [GBR] BART/Argo Group defeated Adam Minoprio [NZL] Team Alpari FX in a runaway. Ainslie was masterful in picking his way through the shifts and taking the best of the puffs.
The sole race between Argo Group Gold Cup defending champion Taylor Canfield [ISV] USone and Francesco Bruni [ITA] Luna Rossa went to Bruni by maybe a bow roller. In the three-lap puff hopper, the lead changed on wind shifts, penalties. Then with Canfield in the lead approaching the final windward mark on starboard, he had a windless mark rounding and a slower spinnaker set.
Semi final racing in the Argo Group Gold Cup. Photo Credit: Charles Anderson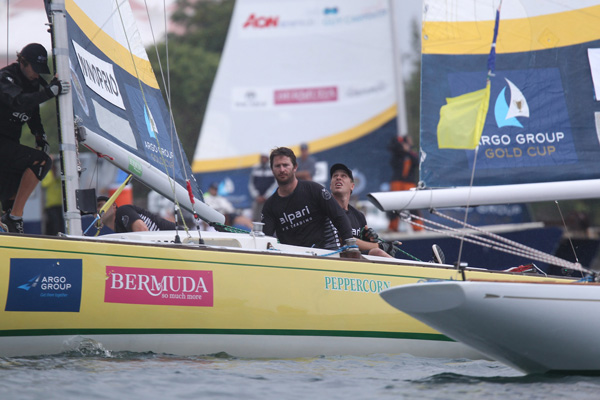 Bruni came rolling up the port tack layline on a good puff for the day, made a gentle rounding and a perfect, quick set. He took the inside on starboard heading downwind. Canfield was ahead, but to leeward. Bruni made gains on the puffs before they moved down to Canfield. Bruni was able to nip Canfield at the finish to take a point. Best to three wins.
Bjorn Hansen [SWE] eWork Sailing Team took 5th place by defeating Keith Swinton [AUS] Black Swan Racing in the first match between skippers who had lost the Quarter Finals. Hansen then faced Ian Williams [GBR] Team GAC Pindar who had earlier defeated Phil Robertson [NZL] WAKA. Hansen took the win and put Williams into 4th place. Swinton then defeated Robertson taking 7th place and leaving 8th for the young Kiwi.
The committee was finally able to get off the 7-8 place match between Swinton and Robertson, but because of the poor racing conditions and the lateness in the day the PRO David Campbell-James decided to look for better racing conditions on Sunday. Racing may start as early as 9:00 ADT to get all the races in… Semi Finals, Petite finals and the big one for the Gold Cup and $50,000.
Read More About