[Written by Talbot Wilson] With 20 teams meeting at the start of the Argo Group Gold Cup event this week, one of the unique aspects of this regatta is that it offers an opportunity to amateur sailors to truly get their start in the world of professional match racing on the Alpari World Match Racing Tour main stage. This year is no exception and it includes three brand new teams from the USA, Bermuda and New Zealand respectively who will debut their skills here as they match up against against the world's best.
Skippers Chris Poole of the USA, Chris Steele of New Zealand and Josh Greenslade of Bermuda will not only have the immense opportunity to sail well on the world stage for the first time, but also for Steel and Poole, this is their very first time setting foot on Bermuda soil. For Steele, it is his team's first time ever in an International One Design sailboat.
[L-R] Chris Steele, David Hazard, Jay Presett & Laurie Jury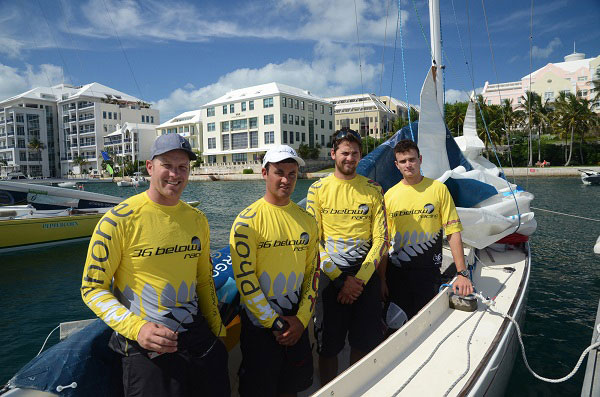 For Greenslade, it is his second match racing competition ever after winning the Bermuda National Championship. For all three teams, it is their first Gold Cup experience offering both a great deal of opportunity and literally nothing to lose.
"This is a wild card invitation for us and we have only been match racing for about a year and a half," said Steele, 20, after arriving from New Zealand with a day to spare before racing begins. "It wasn't planned and it wasn't in the budget, but we scrambled to get here once we got the invitation."
Steele, and his team from 36 Below Racing include David Hazard, Jay Presett, and Laurie Jury – who with one exception, Jury – have never been to Bermuda and have never been in an International One Design boat. "We are honored to be invited here and we did not want to miss it. Our goal this week is to sail well. We are looking to come out firing and with that comes a lot of opportunity."
Poole, 24, of Riptide Racing found out one month ago that he was a wild card entry to the Argo Group Gold Cup. "We had 28 days to get funds, get airline tickets and put our team together," Poole said. A recent graduate of Maine Maritime Academy, Poole is being sponsored currently by the Oyster Bay Boat Shop in Oyster Bay, N.Y. and his team includes Andreas Soriano, Spencer Colpaert, and Chris Kennedy.
Homegrown sponsorship is often how it begins for these young sailors, and Poole's team is no exception. "This is the first time I have ever been to Bermuda but we had some goals this summer. We started out deciding we would try to get into the top 30 of match racing sailors and get into our first Tour event. And, here we are. Our goal for this event it to try and make it to the quarter-finals. And, we know that this is a pretty stacked event so there will be no mercy."
Poole also noted that, "there is a huge increase in college-age kids in the USA that are getting into match racing. It is a lot more feasible than an Olympic campaign and it is a lot easier to get to events. However, match racing at this level just raises the bar for us so much. We know it was a long shot goal for this season but here we are."
Here in Bermuda, the debut of Bermudian and All American collegiate sailor Josh Greenslade, 22, and his team of Blythe Walker, Tom Herbert-Evans and Sean Evans came about after a group of Bermudians started a match racing clinic over the summer to encourage more local teams to sharpen their match racing skills. Greenslade's team did well and he earned his spot at the Gold Cup. They are being sponsored by the RBYC sailing academy.
"This is truly exciting as I grew up here in Bermuda and watched the Gold Cup for many years as a youth. It is an honor to sail for Bermuda against the world's best."
Greenslade is a senior at St. Mary's College in the USA and has done team racing on the sailing team, but is quite new to match racing. An all around talented sailor, Greenslade is actually the 2005 winner of the RenaissanceRe Junior Gold Cup so that bodes well for him here. Reigning champion Taylor Canfield also came through the Jr Gold Cup on his way to the Gold Cup.
"I have to believe in myself that I can beat these other teams," Greenslade said. "I feel like there is no other team out there that I can't beat."
Argo Group Gold Cup racing starts Tuesday at 9:00 CDT with Flights 1-4 in Group 1. In the afternoon Group 2 will sail their first four flights.
Read More About