[Written by Talbot Wilson] 51 kids and a score of adult guests cheered when Sir Ben Ainslie and his Argo Group crewman Matt Cornwall entered the Royal Bermuda YC [RBYC] dining room. The British America's Cup and Olympic hero and his longtime bowman were there to answer questions about sailing careers and experiences and to coach the kids on Hamilton Harbour in a RBYC Sailing Academy Optimist Dinghy clinic. Ainslie represents the Andrew Simpson Sailing Foundation.
To participate in the clinic, each young sailor purchased an Andrew Simpson Sailing Foundation [ASSF] sailing shirt. Many of the adults purchased sailing and polo shirts as well. Ben Nicholls, RBYC Junior Sailing program coordinator, estimates that up to $3000 will be raised in donations and shirt purchases.
Ben Ainslie coaching Bermuda's Opti skippers at the Ben Ainslie Racing Team [BART] sailing clinic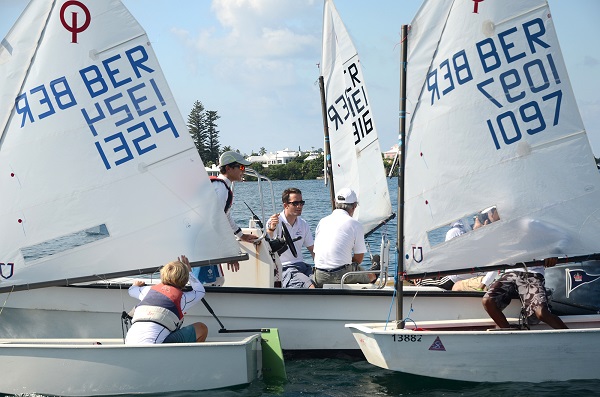 Ainslie and his team are in Bermuda to race the Argo Group Gold Cup, the penultimate stage 5 of the Alpari World Match Racing Tour. His participation, just after being an important part of winning the America's Cup on Oracle, will focus attention on the Foundation that has been established since Simpson's tragic death in San Francisco last May.
The Ben Ainslie Racing Team, called BART, is racing in the Argo Group Gold Cup to raise awareness for this worthwhile cause in memory of their late friend and fellow sailor. Bart and the charity are the reason BART is racing. Their Bermuda sponsor is the Argo Group.
"Bart's Family was keen to help start something to help kids get into sailing," Ainslie said to the group. "So they and Bart's fellow sailors established the Foundation. The goal is to help young kids who don't have the support to get into sailing and maybe into careers in sailing or the industry. Clinics are planned first in England and the plan is to spread them worldwide."
Ben Ainslie autographs Bermudian Jay Hall's BART Clinic shirt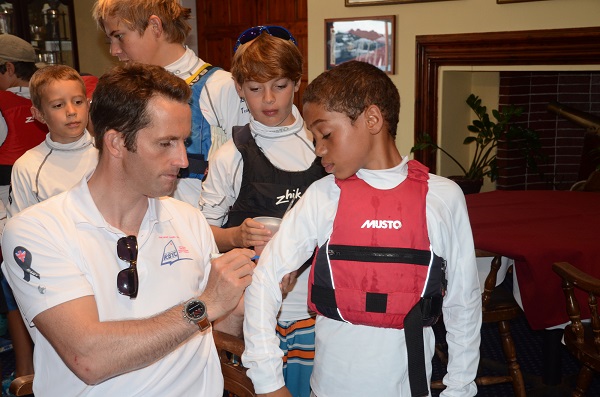 Of course, Ainslie was asked about his America's Cup adventure.
What was steering the AC72 like one youngster asked.
"It was the most exciting experience I've ever had," Ainslie quickly exclaimed.
"40 knots… 50 miles per hour. When the boat went up on the foils and the wind was in your face, it was amazing. We couldn't hear each other and had to use mikes and earbuds."
"Because of the speed and tenderness and quick response required, the helmsman had to trim the daggerboards. We had a keypad and driving was like steering and playing Nintendo at the same time."
"The AC72's are very extreme boats," said Ainslie. "Scary. Amazing boats to sail."
Ainslie explained that the America's Cup is a development race. When Oracle capsized in November 2012 that hurt their development program. "We had slow going in the first races, but the team didn't give up. We worked hard in our development program to gain speed. We started sailing better, too."
Ben's entire crew from 2008 returns to Bermuda for the 2013 Argo Group Gold Cup. Olympic gold medal winner Iain Percy will be Tactician and Mainsheet Trimmer. Multiple Gold Cup Winner Christian Kamp will be jib trimmer and Ben's former Team Origin bowman Matt Cornwall will also be aboard. Gold Cup racing starts October 8th.
Read More About