Esso Bermuda's Aviation Refueling Team won the Global Aviation WINGS Award. This is international award was won by Esso Bermuda's Aviation Refueling Team for achieving a flawless 2012 safety record.
The team consists of David Paynter, Kent Ming, Steven Rodrigues and Ross Dowling who received this award for excellence in safety performance and achieving a flawless record of zero incidents in 2012.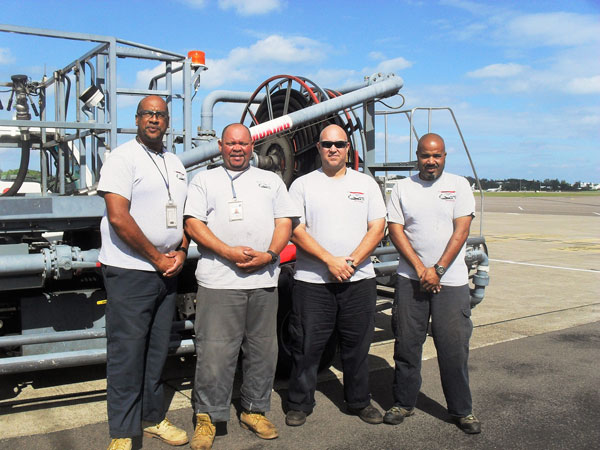 Chris Marshall, Aviation Supervisor stated, "This is a very high achievement and standard to reach. Very few airport teams across the globe can say they have received this award for achieving such a remarkable record as my team did in 2012. David, Kent, Steven & Ross are tasked every day with the crucial and high risk job of refueling aircraft at LF Wade International.
"Their hard work, attention to detail and flawless record has earned them this prestigious safety award. In our world this is a big deal as an airport is a very high risk working environment especially considering the product we handle.
"We were chosen on a global scale of competing Exxon Mobil operated airports. Esso Bermuda is very proud of our guys for achieving this high level of safety and this award recognizes their impeccable record and dedication to service."
Esso Bermuda's Lead Country Manager Mark Fields commented, "People might not be aware of what it takes to get an aircraft to its destination in a safe manner.
"There are many components which must all be done safely and according to regulation. Refueling is a major activity in this process. We want to let Bermuda know that when you get on a plane in at LF Wade International airport you can be assured that the plane you are sitting in has been fuelled with care and professionalism, and that there will be no fuel related issues with your flight.
"This is all due to the diligence and high level of dedication from David, Kent, Steven & Ross on a daily basis. Bermuda should applaud these men who ultimately are responsible for a huge aspect of your safety when you fly.
"They work very hard in all types of weather conditions, at all hours of the day and on public holidays all so we can have the ability to fly off the island knowing that we are safe. A job very well done."
Read More About