Salvation Army Divisional Commander, Major Shawn Critch visited HSBC Bermuda headquarters to accept a ten thousand dollar donation from HSBC Bermuda's directors, management and staff in lieu of gifts and various other Christmas initiatives.
The Bank is assisting this worthwhile charity to continue its most important work in our community by celebrating the spirit of the holiday season in a meaningful way through the gift of giving.
Richard Moseley, CEO, HSBC Bermuda explains, "The Salvation Army touches the lives of so many in our community. We understand the challenges that charities and organisations like the Salvation Army face when it comes to funding and we hope that our contribution can ensure that these programmes remain active and inspire the public to volunteer their time toward such a vital service."
From left: HSBC Bermuda Chairman, Philip Butterfield, Salvation Army, Major Shawn Critch, Judy Doidge, HSBC Bermuda Corporate Secretary and HSBC Bermuda CEO, Richard Moseley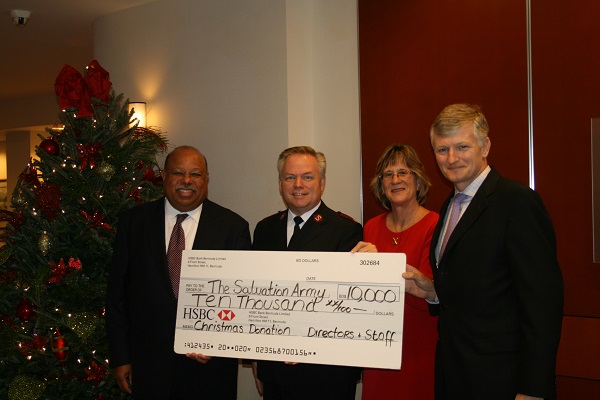 Major Shawn Critch, Divisional Commander, Salvation Army said, "As we approach the Christmas season, the community is coming together to meet an important need. HSBC Bermuda's generosity reinforces community commitment.
"The Salvation Army is very appreciative of the generosity of Bermuda's corporate community and believes financial partnerships represent a critical component of our sustainable funding in support of our mission. There will be many individuals and families who will benefit fromthis corporate donation by HSBC Bermuda staff and its Board of Directors."
Read More About
Category: All