The Salvation Army recently accepted a $10,000 donation from HSBC Bermuda's directors, management and staff who decided to celebrate the spirit of the holiday season through the gift of giving.
HSBC Bermuda wanted to assist the charity to continue its important community work during a Christmas season which sees many locals struggling as a result of the ongoing economic downturn.
Major Shawn Critch, Divisional Commander, Salvation Army said, "I am grateful for the social conscience and community commitment of partners like HSBC Bermuda. The Salvation Army is very appreciative of the generosity and confidence expressed in its mission by the corporate community.
HSBC Bermuda Board Chairman John Campbell, Major Shawn Critch and Phil Butterfield: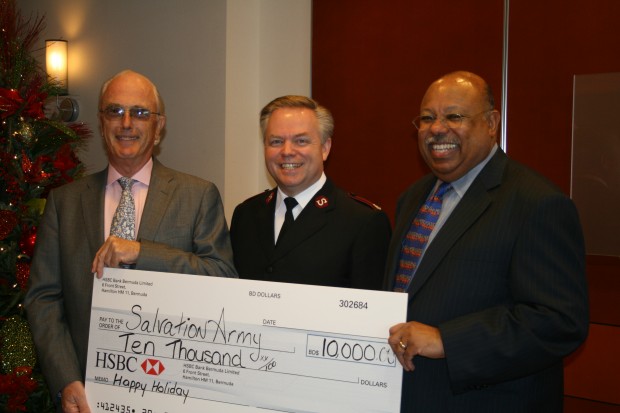 "Such financial partnerships represent a critical component of our sustainable funding in support of our mission. There will be many individuals and families who will benefit from this corporate donation by HSBC Bermuda and its board of directors."
Phil Butterfield, CEO, HSBC Bermuda explains "The Salvation Army touches the lives of so many people in Bermuda. We truly appreciate the great work and hope that our contribution inspires the public to continue to support such a vital service."
Read More About