On Friday night, Bermuda's Ethiopian Orthodox Church opened their doors as locals were invited to learn about their traditions and view their intricately painted church icons created by an Ethiopian Monk Priest.
The Debra Ganet Immanuel Cathedral in St George's features an interior full of painted icons by Abba Gebre Hiwot Wolde Samuel, who was born in a small village in Ethiopia, and ordained as a Monk Priest when he was 18 years old.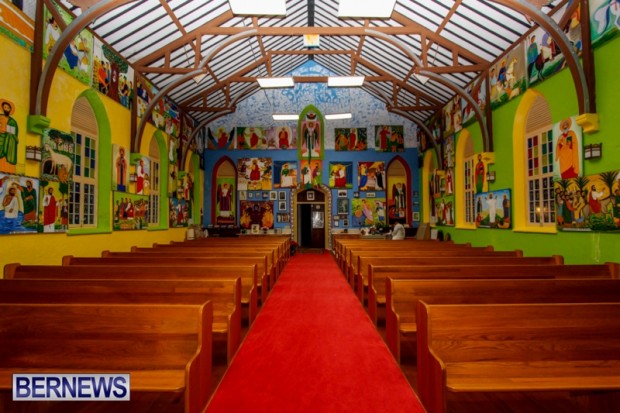 He then studied religious art, and was contracted to paint religious murals for 11 churches in Ethiopia. After seven years, he selected to travel to Barbados with other priests to establish churches in the region, and in 1999 Samuel arrived in Bermuda after being asked to paint for the church on the island.
The Bermuda Church belongs to the Archdiocese of Latin America and The Caribbean, and was elevated to Diocesan Status in 1977 with the consecration of the former garrison chapel in St. George's as the Debre Ganet Immanuel Cathedral Church, which means Immanuel Cathedral Of Paradise.
The Ethiopian Orthodox Church's open house coincided with the National Trust Christmas Walkabout in St George's, with the East End a hub of activity as the festive season gets underway.
Click to enlarge photos:
Read More About