Speculation about a possible political shuffle is swirling, with various talk circulating that Premier Craig Cannonier may be planning to make some changes within Cabinet.
After winning at the polls on 17th December 2012, Premier Cannonier appointed twelve Cabinet Ministers who were sworn in by Governor George Fergusson on 20th December 2012.
All the Cabinet Ministers after being sworn in last year: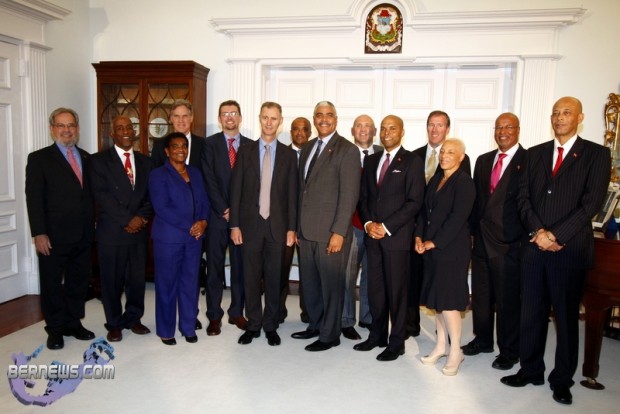 The Premier made some changes to the way the Ministries operated under the PLP administration, with Tourism teamed with Transport, while Economic Development and Home Affairs became stand-alone Ministries.
There have been no changes since that time, discounting the minor change which saw the Ministry of Community & Cultural Development renamed to the Ministry of Community, Cultural Development & Sport.
If the Premier is in fact planning to make changes, it would be his first Cabinet shuffle since taking office.
Tweet from Shadow Finance Minister David Burt this afternoon:
No longer a rumour. @Craig_Cannonier is shaking up the @1bermudalliance Cabinet. Wonder if he's cutting down to 8 like SAGE recommended.

— David Burt (@DavidBurtMP) December 10, 2013
-
The
recent SAGE Commission report
suggested cutting back the size of Cabinet from 12 to 8 Ministers, and reducing the number of elected MPs from 36 to 30.
A [completely unscientific] online poll we ran last week showed that 80% of readers who took part in the poll thought we should reduce both MPs and Ministers.
9% thought we should reduce Cabinet Ministers only, 5% thought we should fire them all, and 3% thought we should reduce MPs only. 2% voted no, while 1% voted for none of the options.
The Cabinet as it stands presently:
Leah Scott: Minister Without Portfolio
Dr Grant Gibbons: Minister of Economic Development
Sylvan Richards: Minister of Environment and Planning
Shawn Crockwell: Minister of Tourism & Transport
Patricia Gordon-Pamplin: Minister of Health & Seniors
Michael Dunkley: Minister of Public Safety
Wayne Scott: Minister of Community, Cultural Development & Sport
Mark Pettingill: Attorney General & Minister of Legal Affairs
Trevor Moniz: Minister of Public Works
Bob Richards: Minister of Finance
Senator Michael Fahy: Minister for Home Affairs
Senator Nalton Brangman: Minister of Education
Update 8.34pm: The Premier's office announced they will be holding a press conference tomorrow morning. The topic was not revealed, however speculation continues to build that the Premier may announce Cabinet changes soon, with suggestions being made that he may reduce the size of Cabinet.
Read More About