Acro Yoga's Daniel Scott will be returning to Bermuda this spring as he partners with local yoga instructor Tali Gabai-Maiato in order to teach his unique style of acrobatic yoga.
Acrobatic yoga sees participants paired together in order to combine their bodies to complete and hold "weird, wonderful, and fun poses."
According to the class' organizers, Acro Yoga is "designed to challenge and reward everyone looking to improve how they move. Each session focuses on building strength and flexibility in different parts of the body through a combination of movement therapies.
"This is not just about partner balance, cross-training, acrobatics, or yoga. Expect a balanced, exciting blend of movement that increases dynamic quality of movement and functional strength.
"Learn trust by deepening your understanding of structural awareness."
Mr. Scott hails from the San Fransico Bay area and is a Ashtanga-Vinyasa teacher and Certified Level 2 AcroYoga instructor. He's a knowledgeable and humorous teacher, who has a healthy love of good coffee, barefoot running, and, of course, sharing his knowledge with the global community.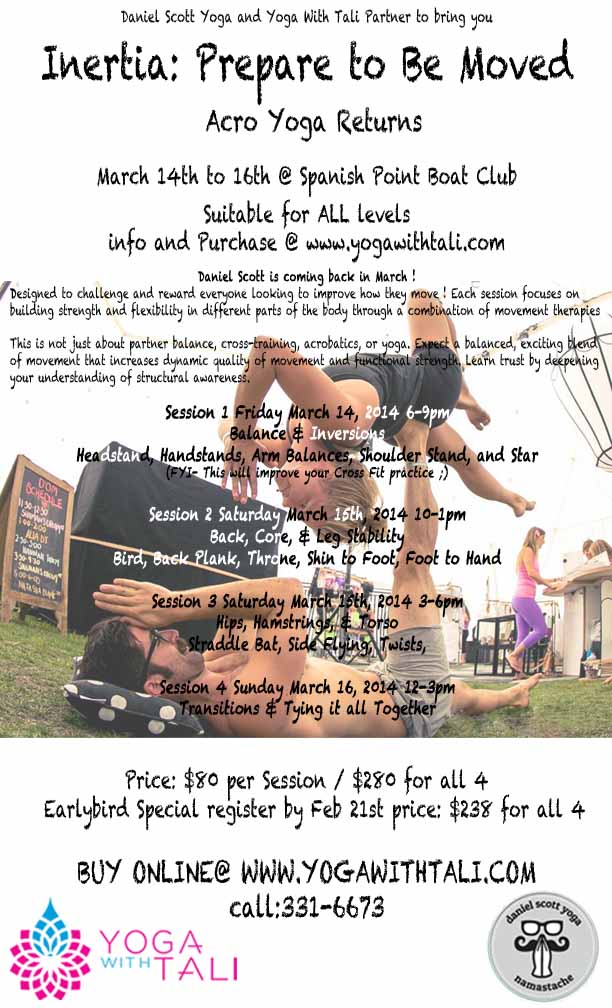 This course is suitable for all levels, from absolute beginners to advanced practitioners.
The first Acro Yoga session will be held on Friday, March 14, 2014, from 6.00pm until 9.00pm.
Subsequent sessions will be from 10.00am until 1.00pm and from 3.00pm until 6.00 on March 15, and a final session from 12.00pm until 3.00pm on March 16.
The cost to attend is $80 per session, or $280 for all four sessions; if you register by February 21, 2014, the cost for all four sessions will be $238.
For more information or to secure a spot in the class, please visit yogawithtali.com or call 331-6673.
Read More About
Category: All