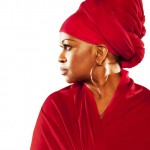 The Bermuda Yoga Festival is set to take place from April 3 through April 6, 2014, bringing 11 international yoga teachers and kirtan musicians to the island for the four day event.
The guest teachers and musicians hail from various US cities and practice many different styles of yoga.
A spokesperson said, "Looking for a way to de-stress, uplift, and bring more joy into your life?
"Then kirtan, the musical aspect of yoga, might just be the answer. Kirtan is an easy yet powerful way to relax, release tension, and connect with your heart.
"Two evening kirtan concerts will take place in Bermuda as part of the Bermuda Yoga Festival from April 3 through April 6, with international and highly acclaimed kirtan artists David Newman [Durga Das] and C.C. White [pictured above]. Both shows will be opened by local kirtan groups, including a band on Friday night and our local kirtan choir on Saturday.
"David Newman [Durga Das] describes kirtan as "a group gathering where sacred mantras [prayers] are sung together in a call-and-response style." In her lyrics, C.C. White explains simply, "Kirtan feels good. It's about love. It's about joy. It's about peace."
"According to the website New World Kirtan, "In the last ten years, kirtan has become a phenomenon across the United States". Awareness of this ancient practice is growing there and around the world. During kirtan, mantras are sung to music in a language called Sanskrit in a style that makes it accessible and fun for everyone. We encourage you to come with an open mind and leave with an open heart.
Kirtan group performs at Earth Hour 2013:
"David is opening the kirtan section of the Bermuda Yoga Festival with a concert on the night of Friday, April 4 at the Fairmont Southampton. Doors open at 6.30pm. Expect folk-song melodies, light rock, and a little bit of country as well as some traditional chanting. "David is reminiscent of George Harrison, Bob Dylan, and Paul Simon when they are in soul mode," says LA Yoga Magazine.
"C.C. White will perform on the night of Saturday, April 5 at the Fairmont Southampton. Doors open at 6.30pm. C.C. has a rich, soulful voice, which naturally lends itself to mantras with the influences of gospel, blues, old school soul, R&B, and even a little reggae.
"Concert tickets are available at ptix.bm for $55 per concert or $95 for both, with those under 12 admitted for free. Bring a cushion as traditionally we sit on the floor. There will be some chairs available.
"Yoga festival passes are on sale exclusively at ptix.bm; they are available as Kirtan only, One Day Pass, Two Day Pass, "Quick Dip Pass" [taster of 3 sessions and one kirtan concert], or only $499 for the Full Festival Pass.
"The event is sponsored by the Bermuda Tourism Authority with Fairmont Southampton as primary partner; special room rates are available for Festival pass holders."
More than a year in the making, local yoga teachers have worked to establish the Bermuda Yoga Festival as a high-ranking event in the international yoga festival circuit. Local yogis are encouraged to attend and there is plenty on offer for those who have not yet tried yoga; beginner classes, advanced workshops, wisdom talks, music, and chanting are scheduled.
For more information, contact bdayogafest@gmail.com or visit their website or Facebook page.
Read More About
Category: All, Entertainment