The Bermuda Police Service today donated a cheque for $16,764.86 to the Bermuda Hospital Charitable Trust's [BHCT] "This is Why it Matters" campaign.
The money was raised through a series of events such as Denim Days, car parking at police field, social events at the Police Recreation Club, and a fundraiser held at the Police Ball.
The Commissioner of Police said, "This was an important opportunity for the Bermuda Police Service to show our commitment and engagement with our community outside of our traditional policing roles.
"Everyone in Bermuda benefits from a world class health care facility and the BPS family is honored we could play our small part."
Commissioner of Police Michael DeSilva and Chairman of the BHCT Mr. Philip Butterfield: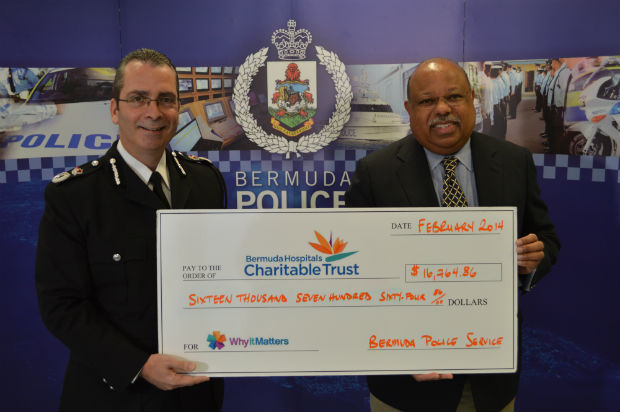 The Chairman of the BHTC, Mr. Philip Butterfield said, "On behalf of the Bermuda Hospitals Charitable Trust, I would like to give my heartfelt thanks to Commissioner DeSilva and his colleagues at the Bermuda Police Service for their remarkable donation to the "Why it Matters" campaign.
"The continued support of the Bermuda Police Service speaks to the organization's character and commitment to assisting the community. Thank you for your leadership and generosity in helping to build the best hospital facility for Bermuda."
The cheque presentation took place today [Feb 19] at the Police Community and Media Room in the Hamilton Police Station; on hand was Commissioner of Police Michael Desilva, Chairman of the BHCT Philip Butterfield, Assistant Commissioner Paul Wright, and Assistant Commissioner Antoine Daniels.
Read More About