The Bermuda Chamber of Commerce has fired Joanne MacPhee following the incident that occurred during the BIU march on Hamilton. She previously served as the Executive Director, and has been terminated effective immediately.
Ms MacPhee described herself as "absolutely gutted by the Chamber Board's vote of no confidence", and extended her thanks to all the members who supported her efforts during her tenure, as well as to the BIU President and Board for accepting her apology.
Background [Link]
BIU members were marching through Hamilton on Wednesday to protest the labour dispute with the Fairmont Hamilton Princess, and Ms MacPhee, who was on vacation at the time, yelled at them from a balcony, saying they should go to work, and are lucky to have jobs.
Photo sent in by a Union member of Ms MacPhee on the balcony: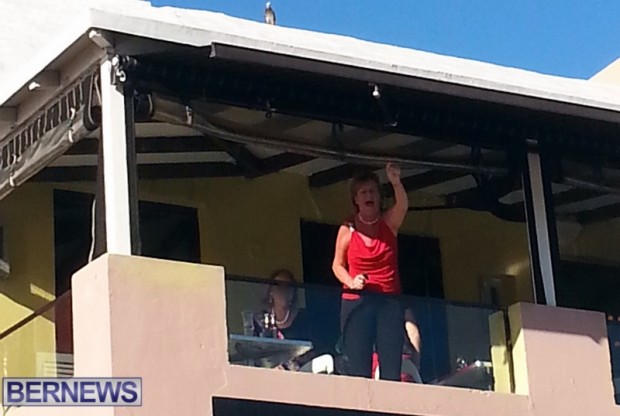 At a press conference held yesterday, BIU President Chris Furbert called for an apology saying, "When you have the Executive Director of the Bermuda Chamber of Congress, which is Ms. Joanne MacPhee shouting at our members to go back to work…and had I not told the workers at the front of the line that I saw something going on, I walked back – we could have had a mini riot…"
Mr. Furbert addressing the incident with Ms MacPhee
Ms MacPhee subsequently apologised for her actions, and also extended her thanks to Mr. Furbert for defusing the situation.
Late yesterday afternoon, President of the Bermuda Chamber of Commerce Ronald Viera said that Ms MacPhee was suspended without pay, and they will "meet with the full executive board as soon as possible to discuss further action."
Chamber Terminates Her Employment
In a statement issued today, Chamber President Ronald Viera said: "Following a meeting of the Bermuda Chamber of Commerce Board, the decision was made to terminate Mrs. Joanne MacPhee as Executive Director effective immediately.
"Employee benefits such as health insurance and coverage in The Employee Assistance programme will be offered to Mrs. MacPhee for a period following her termination.
"The Bermuda Chamber of Commerce wishes to assure our membership that all of the Chamber's programmes will continue as planned as we continue to support local business development initiatives.
"We will begin the search for a suitable replacement as soon as possible," added Mr. Veira.
Joanne MacPhee's Response To Termination
Speaking after the decision, Ms MacPhee said, "Not surprisingly I am absolutely gutted by the Chamber Board's vote of no confidence, especially when you take into consideration my considerable contribution to the Chamber and the membership over the past two and a half years.
"There is just so much more to be done at the Chamber and I genuinely feel bad not being able to at the very least transition someone else into the position.
"My thanks go out to all the members who have supported my efforts during my tenure, and I wish them and the entire business community the very best during this time of critical recovery.
"On a personal note I would like to thank Mr. Chris Furbert and the Board of the BIU for accepting my apology and being so gracious in understanding that underneath the title I was nothing but human.
"I expressed to them my hope that something positive can come out of all this, and I look forward to finding a way to make that happen."
Read More About