The Bermuda Chamber of Commerce hosted their Annual Budget Breakfast this morning [Feb 23] at Lower Pier Six, with the panelists included Minister of Finance Bob Richards, Nathan Kowalski of Anchor Investment Management, Kim White of Cox Hallett Wilkinson who also served on the SAGE Commission, while Arthur Wightman of PwC Bermuda served as moderator.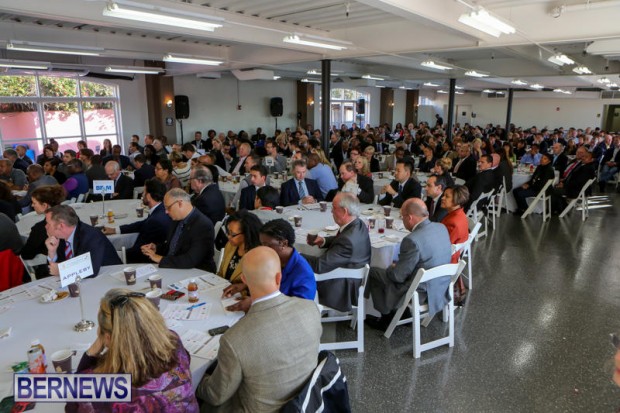 The Breakfast follows after Minister Richards delivered the 2015/16 Budget on Friday [Feb 20], in which he said that gross public debt will stand at $2.185 billion as of March 21 2015; the borrowing requirement in 2015/16 estimated at $125 million; $170 million budgeted for debt service this year and the overall deficit is budgeted to be $220 million.
The Minister also revealed that Airport Departure Tax will be raised from $35 to $50 per passenger, Duty on fuel will be raised by 5 cents per litre in April 2015, Payroll tax will be set at 14.5% in 2015/16, Corporate Service Tax Rate will be raised from 6% to 7%, and Payroll concessions in place for the hospitality, restaurant & retail sectors will be partially rolled back in 2014/15 with businesses in these sectors paying rate of 5.5%.
Mr Wightman started the meeting off by saying, "The Minister made his case for the seriousness of our fiscal situation, describing the national debt as 'the biggest risk to financial independence', and outlining his determination to eliminate the deficit within three years.
"We will all bear the increased taxes needed to reduce the deficit. As we heard, cost reductions have not met their goals. The Minister said it has been determined that the deficit will not be broken by spending cuts alone; increased revenues will be necessary."
Read More About