In the Spirit of Love is a benefit variety show to be held on March 8, 2014 at 7.00pm at the Ruth Seaton James Auditorium, organized by three members of the CedarBridge Academy Staff to aid a colleague whose grandsons were born ill, with one immediately flown overseas for treatment.
"The proceeds from this show will go toward repayment to the LCCA, without whose help one of the children would not be alive today," explained Gloria Francis, social studies teacher and organizer of the benefit show.
Titan Donvel Pogson and Thailon Grasvil Pogson were twin boys born to Calvina Brown and Thai Pogson on December 19, 2013. Their grandmother is Patricia Nesbitt, an instructional leader of the arts for CedarBridge Academy.
Titan was born with a diaphragmatic hernia, a birth defect which is an abnormality that occurs before birth as a fetus is forming in the mother's uterus, causing an opening to be present in the diaphragm, the muscle that separates the chest cavity from the abdominal cavity.
With this type of birth defect, some of the organs that are normally found in the abdomen move up into the chest cavity through this abnormal opening. In Titan's case, his intestines and stomach shifted their ideal position, causing his lungs to develop improperly and making it impossible for him to breathe on his own, leading him to have congestive heart failure.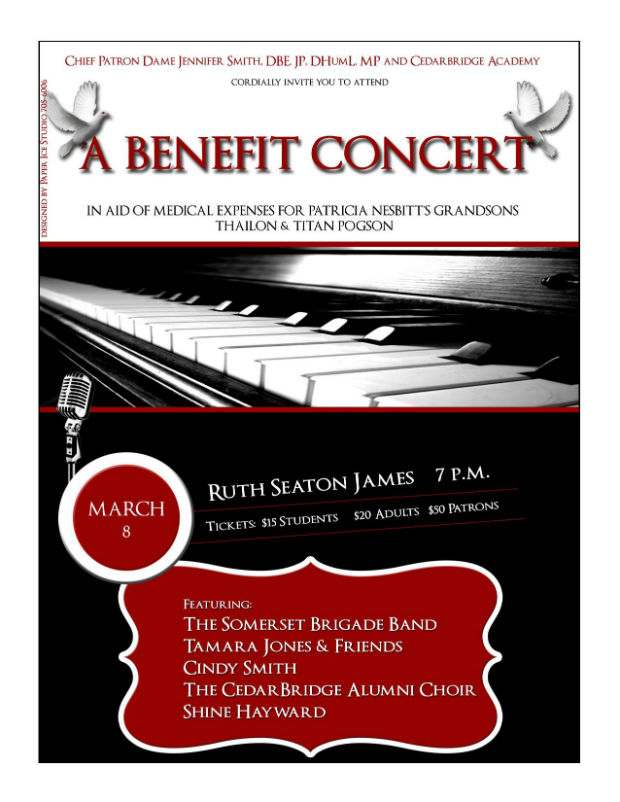 Within 24 hours of his birth, Titan was flown to the IWK hospital in Halifax, Nova Scotia, Canada and was cared for by a team of expert doctors and nurses who kept a constant vigil over him; he was never alone. He and his father remained there until January 31, when Titan was able to be transported by air ambulance to King Edward Hospital in Bermuda.
He remained there until February 19 when he was released to his parents.
Meanwhile, Titan's mother, Calvina, lost her mother, Mrs. Freda Brown, as she too became ill; at the same time, Thailon had lost a considerable amount of weight and also had to be hospitalized.
Thai's grandmother, Mrs. Patricia Nesbitt, a well-known playwright, theatre director, producer, and educator who currently works as the instructional leader for the arts at CedarBridge Academy, was informed about the LCCA and about how they can provide assistance for Titan's hospital bill. The family's hospital bill is currently at $274,107 and rising.
In the Spirit of Love will see talented individuals such as Shine Hayward, Cindy Smith, Toni Robinson, The Somerset Brigade Band, Gina Spence and Jeff Harper, Gina Love and Jermaine Jeffers, The Gina Love Band with Hugh Murray, Tiffany Fox, Tamara Jones and Friends, Sheryll Ricardo and Students, and others perform, giving those in attendance the ability to enjoy comedy, live music, singing, skits, and big band music; all in all, a full representation of the arts.
Tickets for the event will cost $15 for students, $20 for adults, and $50 for patrons, with all proceeds going towards the medical expenses associated with the continuing care of Thailon and Titan Pogson.
Read More About
Category: All, Entertainment, Music