The opening ceremony of the fifth annual Bermuda Public Service Union [BPSU] Triennial Delegates' Conference took place earlier this week, featuring a keynote address from Senator Sir Roy Trotman from Barbados.
Featuring the theme of "Social Dialogue: A Catalyst for Economic Recovery and Growth," the conference opened with a call to order from Edward Ball, General Secretary, and a prayer from Reverend Rodney Grimes, Former Executive Officer. The prayer was followed by a general welcome message and an acknowledgement of the event's many visitors from Mr. Ball.
As the ceremony got underway, Premier Craig Cannonier offered greetings along with Deputy Governor Ginny Ferson, Minister of Home Affairs Michael Fahy, and Opposition Leader Marc Bean, followed by fraternal greetings from Mr. Ball.
President Kevin Grant offered his remarks on the event and its purpose, with Lisa Trott following those remarks up with a solo performance.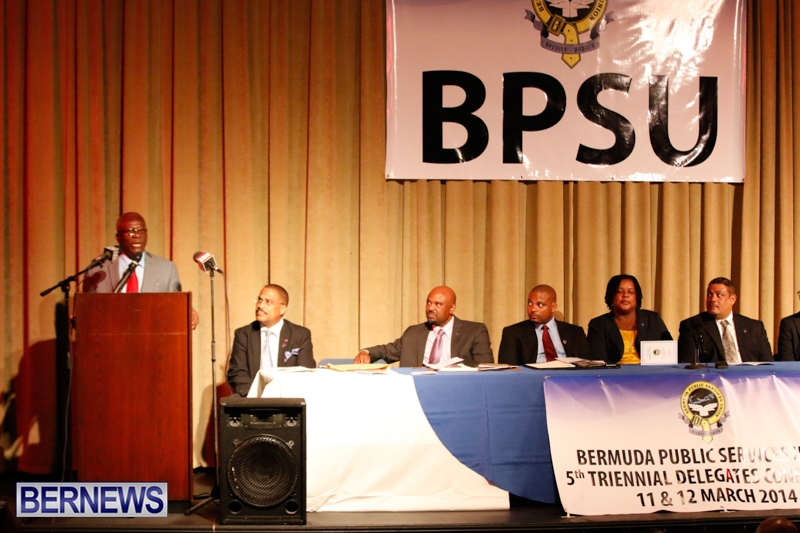 Larissa Burgess proceeded to introduce the featured guest speaker at the event, Senator Sir Roy Trotman, who then followed with his keynote address.
Hailing from the Barbados Workers' Union, Senator Sir Roy Trotman has been a respected unionist for many years. According to an event spokesperson, "Senator Sir Roy Trotman is a highly respected trade unionist who, since joining the labour movement in 1971, has achieved notable results throughout his career.
"He joined the Barbados Workers' Union as Personal Assistant to the then General Secretary before he was appointed Deputy General Secretary/Director of Organizing nine years later.
"Nationally, Sir Roy served as a Member of the Lower House from 1986-1994. He is a founder and President of the Congress of Trade Unions and Staff Associations of Barbados, a position he has held since 1995.
"Internationally, Sir Roy distinguished himself as the first black President of the International Confederation of Free Trade Unions [ICFTU], now known as the International Trade Union Congress [ITUC]. He held this position for two consecutive four year terms since 1992 and currently serves the organization as a Vice President.
When Senator Trotman ended his address, the President's Awards were announced by Mr Ball. In closing the ceremony, a vote of thanks was offered by Roderick Masters, 3rd Vice President Elect, with the union song "Solidarity Forever" performed in order to achieve a hopeful and invigorating end to the proceedings.
Premier Cannonier's full speech follows below:
I had the pleasure today of attending the Bermuda Public Services Union's 5Th Triennial Delegates' Conference which was held at the B.I.U. headquarters. The topic for the event was "Social Dialogue: A Catalyst to Economic Recovery and Growth".

I want to congratulate the Bermuda Public Services Union, spearheaded by its General Secretary, Mr. Ed Ball Jr., and its President, Mr. Kevin Grant, for their vision in bringing the conference forward. The keynote speaker was Senator Sir Roy Trotman, a highly respected trade unionist from Barbados.

We started out the morning with a moment of silence to reflect on the two lives that were so tragically lost in St. George's yesterday, an event that has affected me on a personal level.

In that moment of silence, I had a chance to reflect on the frailty of life and how we must strive to live it to the full. Life is too short and sometimes it's even shorter than we think.

As people, we are often so busy with the tasks of the day, from our family life to our work and social commitments. We routinely rush around from one thing to another, often leaving little time for meaningful and positive talk with those most precious to us.

I have come to the conclusion that without positive social dialogue, there is no future that we can share. In order to progress together, we must have meaningful conversations.

I was proud to be part of a positive conversation with BIU President Mr. Chris Furbert last week in the wake of the labour dispute, when there seemed to be no way forward. But when we took off the titles and sought to understand one another, it became clear there was ample room for progress. I am convinced that social dialogue can be the catalyst for growth and understanding.

I also witnessed the same dynamic last year when representatives from all of Bermuda's Unions/Associations came together and found a positive way forward for Bermuda during the Government Negotiations 2013 initiative. It was an historic agreement that exemplified the spirit of collaboration and shared sacrifice.

I have long been a proponent of collaboration, and so the theme of today's Conference has definitely resonated with me.

I believe Bermuda's economic growth is tied directly to our ability to speak constructively with one another no matter who we are or where we are – on the street, over the counter, around the boardroom table, Bermudian, non-Bermudian.

We may come from different ethnic, professional, political or spiritual backgrounds, but without positive dialogue the lines of demarcation that separate us will remain in place, forever keeping us from solutions we can truly share.

As we go into this very busy legislative year, I look forward to engaging in more opportunities for positive dialogue to foster the economic growth and social progress we all want.

As your Premier, I know the buck stops with me, but it starts with all of us.
-
Minister Fahy's full statement follows below:
Good morning – and thank you very much for inviting me to be here today.

I want to offer greetings to the General Secretary Mr. Ed Ball Jr., President Mr. Kevin Grant and the membership of the Bermuda Public Services Union. I would like to extend greetings to any other trade unionists joining us here today.

I wish to also extend a very special welcome on behalf of the Government of Bermuda to Sir Leroy Trotman, General Secretary of the Barbados Workers Union.

Sir Roy you are a highly respected trade unionist who, over the decades, has demonstrated that you are an individual of action, fiercely advocating for the rights of the worker…and achieving much success on their behalf. I actually had the privilege of meeting Sir Leroy yesterday and learned this was his third trip to Bermuda.

Ladies and gentlemen, your conference theme this year is, "Social Dialogue: A Catalyst to Economic Recovery and Growth". And as the General Secretary stated, it is a very timely theme. I believe social dialogue is needed now more than ever to address the critical matters that we jointly face – as we are all in this together.

As the Minister responsible for Labour and Chair of the Economic Tripartite Committee I am a firm believer that communication and collaboration is key if we are to achieve our collective goals.

You will recall that a Memorandum of Understanding (MOU) between the Bermuda Government and the Bermuda Trade Union Congress (BTUC) was signed in July 2013.

This emanated from the Government seeking the BTUC's assistance in helping to reduce the current deficit through cost cutting measures. Those of you here today would know that the BPSU were one of the seven unions who signed that MOU.

One of the agreements reached in the MOU was the formulation of the Economic Tripartite Committee ("the Committee"). The Committee's mandate is to have active participation of all tripartite partners with the shared goal of working collaboratively to find solutions to ease the economic hardship Bermudians are facing during these economic times. And I am encouraged by what we have managed to accomplish thus far.

Over the past several months, we have convened several meetings of the Committee, received a number of presentations from our industry and business stakeholders, including more recently Belco…..and held a Labour Summit in October of 2013 which saw close to 120 representatives from the Island's business, hospitality and union sectors come together to find common goal solutions.

And what has been evident in these past few months is that when it comes to ensuring that we are working with the singular purpose of helping Bermudians, the collective thinking of Unions, Employers and the Government is largely aligned.

Also evident is the fact that some of our industry partners still have work to do in respect of the true meaning of shared sacrifice.

The Committee will continue to work on your behalf to not only encourage shared sacrifice across all sectors…but it has also been tasked by me to give suggestions and ideas to the Government in respect to economic growth.

Ladies and gentlemen, it is my hope that as we move forward in the best interest of Bermuda, this kind of collaborative dialogue continues, particularly if we are to ensure that Bermuda is put back on the path of prosperity.

When we explore the concept of social dialogue and the need to engage in it to foster economic growth and job creation, we must also look at it in the context of each of our roles and responsibilities and what each of us as entities must commit to so that we can ensure that we are upholding the proper processes when mitigating disputes.

We have seen far too many instances recently where there has been an act now; discuss later approach towards resolving labour differences from all parties.

Not only does the resulting effect of withdrawn public services cause great inconvenience to our residents, but it has an adverse effect on the Bermuda's economic health as well as our reputation as a premier tourist destination.

Recently, I raised the importance of adhering to the protocols of the International Labour Organisation (ILO) and Bermuda's obligation as members to embrace and put into practice the international labour guidelines that govern us.

Equally important is the need to adhere to the guidelines as outlined in the Collective Bargaining Agreement (CBA) by all parties.

These frameworks are in place for a reason.

And as Minister responsible for Labour, it is my duty to ensure that those frameworks are followed.

When I assumed the daunting task of Minister responsible for Labour Minister, I undertook to meet with the respective stakeholder unions and private sector partners to consider the current legislation guiding our labour matters. What was agreed was that our legislation was somewhat antiquated and as such, we were able to establish the Labour Reform Group.

This Group comprises of two of the best legal minds in Bermuda in relation to Labour issues as well as two of the top trade unionists on the Island – namely, the President of the BIU and the General Secretary of the BPSU. I would like to take this opportunity to thank Mr. Chris Furbert and Mr. Ed Ball for their valuable contributions thus far.

The ultimate objective of the Reform Group is to consolidate a vast majority of the Labour Laws in Bermuda – which we believe will go a long way to harmonizing the relationship between the Government and the Unions as well as mitigating labour disputes as a result of ambiguity or interpretation of our guiding principles.

Finally ladies and gentlemen, as I said last week during the labour impasses that we were facing, this Government believes in the rights of workers. That is a fundamental principle of labour. And for our part we will continue to work hard towards collaborating and developing our relationship – as I have maintained, Governments and unions do not need to be at odds.

To be clear, this Government is working to make Bermuda work for everyone – to make sure that the delicate economic recovery is preserved so that we can get our people back to work. And I believe that if we work together in a spirit of unison, we will see positive results. This is not just lip service.

Many times what may be reported in the press is not necessarily the most accurate reflection of the deliberations and the building of relationships going on behind the scenes with Government, employers and employees – which has been generally good over the last year or so. However, I have learned that when all parties are not the happiest, I am probably on the right track!

More seriously as I close, it is my hope that your deliberations and discussions over the course of your conference are very fruitful…….and I look forward to hearing from our union partner's with regard to further thoughts and ideas of how we can enact and embrace additional measures that will support our people moving forward.

Thank you.
-
Premier Craig Cannonier:
Deputy Governor Ginny Ferson:
Minister of Home Affairs Michael Fahy:
Opposition Leader Marc Bean:
BPSU President Kevin Grant:
Senator Sir Roy Trotman:
Click to enlarge photos:
Read More About