The Medical First Responder program of St. John Ambulance held their graduation and awards ceremony last night [Mar 27], honouring 20 graduates in total, including 12 new Advanced Medical First Responders and eight Recertification Advance Medical First Responders.
The Medical First Responder Course is a 52 hour comprehensive training program for people with specific responsibilities for caring for the sick and injured.
The course includes home study, as well as many hours of hands-on training, and two exams which both must be successfully passed in order to graduate; one written and one practical.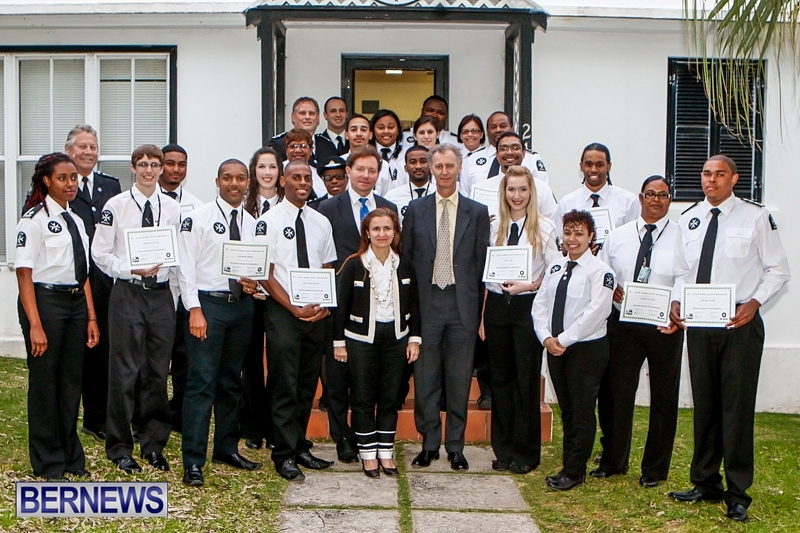 The 12 new Advanced Medical First Responders include Shane Antonition, Amber Clark, Paige Clark, Antione DeShields, George D. Morris, Ryan Perinchief, Damian Pitcher, Chelsea Powell, Dawnette Smith, Shakir Smith, Tanisha Smith, and Tiontae Thomas.
The eight new Recertification Advance Medical First Responders include Jeffrey Borges, Christopher Douglas, Stephen Gunn, Meekai Johansen, Travis Usher, Blake Raynor, Sandra Williams, and Jahkhari Woods.
The event was taken in by a variety of people, with Governor George Ferguson in attendance, along with
St. John Ambulance Board members Justin Williams, Marcia Woolridge, Dr. Monica Hoefert, Col. Raynor, Patrick Outerbridge, and Roddy Gray.
Also at the event were Commissioner Stephen Gunn, Assistant Commissioner Michael Murdoch-Smith, Deputy Commissioner Gareath Adderley, Training Officer Veronica DeSilva, Assistant Training Officers Steven Adams, Tierney Gibbons, and Deidre Rice-Simmons, Instructor Sister of the Order Shirley Outerbridge, and special guest Kirk Kitson, along with family and friends of the graduates.
The graduating class brings the total number of medical responders in Bermuda's St. John Ambulance to 84, consisting of Advanced First Aiders, Advanced Medical First Responders, and Emergency Medical Technicians-Intermediate.
Click to enlarge photos:
Read More About