The third Validus 5K Running of the Bulls took place on Sunday morning [Mar 30] with runners given a four minute lead ahead of the elite female bulls Ashley Estwanik, Jennifer Alen and Dion Breary, while the male bulls Chris Estwanik and Stephen Allen started two minutes after their female counterparts.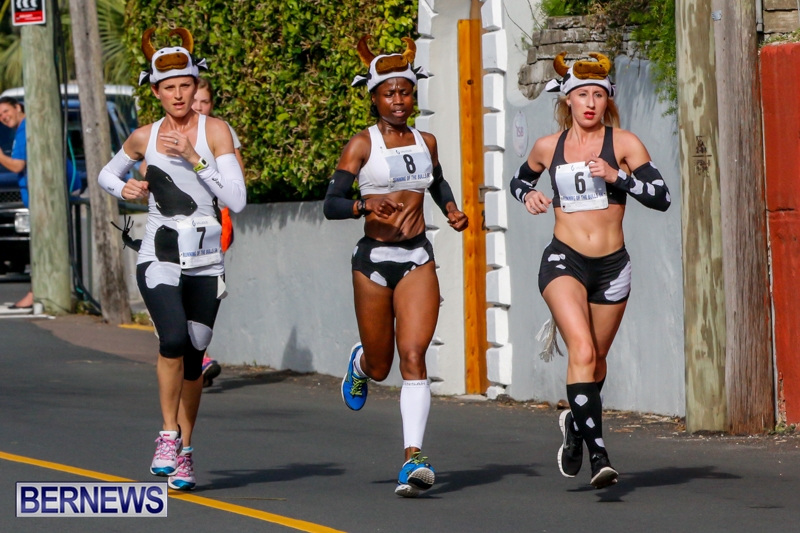 Maritz Theron crossed line first with a time of 17:29 while Christopher Hands finished second clocking 18:04 and Jahmai Lottimore was third with a time of 18:16.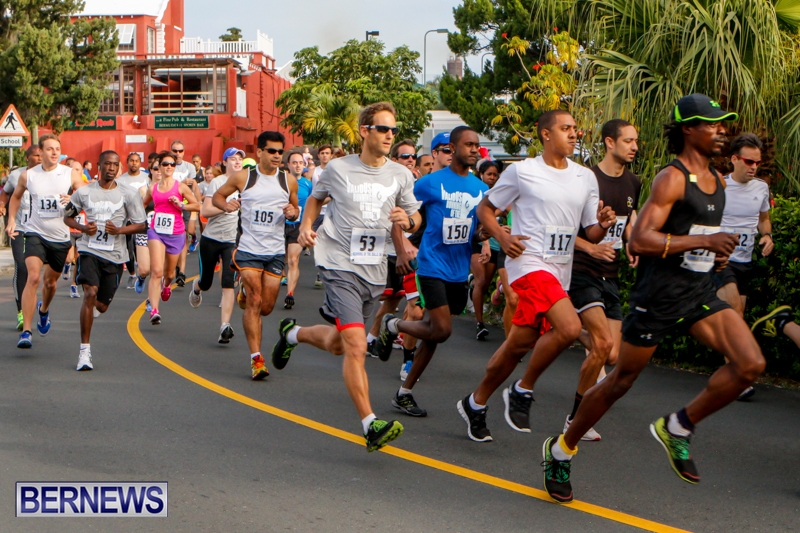 Laura Wright was the first Female finisher crossing the line 15th overall with a time of 20:07. Stepanka Sprincova was the second female finisher and 28th overall with a time of 21:51 and finishing 32nd overall was the third female finisher Kathleen Thompson clocking a time 21:56.
The full results follow below, scroll to view all
5K Run

1 – Maritz Theron – 17:29
2 – Christopher Hands – 18:04
3 – Jahmai Lottimore – 18:16
4 – Stuart Palmer – 18:18
5 – Andy Starr – 18:20
6 – Ronae Burgess – 18:44
7 – Byron Rencken – 18:53
8 – Corey Brunton – 19:06
9 – Coyatito Smith – 19:17
10 – Justin Brenden – 19:25
11 – Alex Godfrey – 19:45
12 – Jose Lopez – 19:54
13 – Mark Robinson – 19:54
14 – Peter Gracey – 20:00
15 – Laura Wright – 20:07
16 – Bron Turner – 20:10
17 – David Packer – 20:12
18 – Craig Smith – 20:23
19 – James Dodgson – 20:53
20 – Christopher Jones – 21:02
21 – Dominique Nanette – 21:10
22 – Darin Cassidy – 21:17
23 – Otis Ingham – 21:25
24 – Shay Brown – 21:35
25 – Jerome Wellman – 21:42
26 – Mark Roberts – 21:45
27 – James Cooney – 21:45
28 – Stepanka Sprincova – 21:51
29 – Ashley Fife – 21:54
30 – David Hoey – 21:55
31 – David Friston – 21:56
32 – Kathleen Thompson – 21:56
33 – Matthew Viney – 22:09
34 – Sharon Craig – 22:20
35 – Gayle Lindsay – 22:22
36 – Garon Wilkinson – 22:32
37 – Jim Paugh – 22:33
38 – Jonathan Lee – 22:34
39 – Jesse Decouto – 22:35
40 – Mairi Redmond – 22:36
41 – Robin Holder – 22:45
42 – Malik Showers – 22:47
43 – Paul Dobinson – 23:03
44 – Nicola Feldman – 23:08
45 – Jamiko Bean – 23:11
46 – Alexis Bean – 23:17
47 – Elizabeth Madeiros – 23:24
48 – Stanley Davis – 23:32
49 – Bonnie Mills – 23:33
50 – Rory Gorman – 23:38
51 – Lyndsay Forrest – 23:39
52 – Eugene Honohan – 23:49
53 – Zina Jones – 24:00:00
54 – Ashley Pimentel – 24:01:00
55 – Andrew Fraser – 24:01:00
56 – Allen Brown – 24:15:00
57 – Isabel Van Der Westhuizen – 24:16:00
58 – Jacklyn Dahill – 24:18:00
59 – Kathryn Partington – 24:18:00
60 – Helen Hughes – 24:24:00
61 – Maria Duffy – 24:30:00
62 – Ash Richards – 24:32:00
63 – Terrance Taylor – 24:35:00
64 – Somer Froud – 25:04:00
65 – Paul Gilmour – 25:07:00
66 – Daren Smith – 25:28:00
67 – Zaid Khan – 25:38:00
68 – Ryan Gibbons – 25:38:00
69 – Ian Mullings – 25:47:00
70 – Shannon Forth – 25:49:00
71 – Harjeet Singh – 25:51:00
72 – Sarah Thompson – 25:52:00
73 – Vanessa Hollis – 25:53:00
74 – Gregory Rose – 25:57:00
75 – Kian Butterfield – 26:03:00
76 – Larissa French – 26:06:00
77 – Suzana Ming – 26:08:00
78 – Gabriela Andersen – 26:10:00
79 – Michael Maguire – 26:10:00
80 – Damon Green – 26:12:00
81 – Claudia Philipsz-Jones – 26:17:00
82 – Gordon Paterson – 26:25:00
83 – Hilary Haldeman – 26:27:00
84 – Ally Roberts – 26:27:00
85 – Peggy Couper – 26:27:00
86 – Janine Duffin – 26:32:00
87 – Ellen Goodyer – 26:42:00
88 – Michael Quesnell – 26:43:00
89 – Sarah Desilva – 26:44:00
90 – James Gitu – 26:49:00
91 – Nancy Stevens – 26:50:00
92 – Declan McCarthy – 26:53:00
93 – Adrian Robson – 26:59:00
94 – Bridget Driscoll – 27:07:00
95 – Melanie Lopes – 27:16:00
96 – Anne Quesnell – 27:21:00
97 – Caroline Stockdale – 27:21:00
98 – Jon Levenson – 27:23:00
99 – Fabio Oliveira – 27:33:00
100 – Hilary Commane – 27:35:00
101 – Tracey Jachmann – 27:35:00
102 – Patricia Pitcher – 27:36:00
103 – Lisha Klopper – 27:39:00
104 – Elizabeth Stewart – 27:46:00
105 – Alastair Jack – 27:52:00
106 – Sheikia Ming – 27:58:00
107 – Carlo Pinardi – 27:59:00
108 – Anthony Brannon – 27:59:00
109 – Denice Dane – 28:00:00
110 – Nicole Grant – 28:12:00
111 – Melanie Fullerton – 28:34:00
112 – Laura Defilla – 28:38:00
113 – Clay Holland – 28:46:00
114 – Tamara Bradshaw – 28:47:00
115 – Pamela Williams – 28:48:00
116 – Anna Bruce-Smith – 28:52:00
117 – Kathleen Reardon – 29:05:00
118 – Marc De Verteuil – 29:07:00
119 – Michelle Ingham – 29:21:00
120 – Goretti Clementino – 29:25:00
121 – Kimberley Louisien – 29:29:00
122 – Narelle Hendricks – 29:47:00
123 – Mark Finnigan – 29:51:00
124 – Akira Robinson – 29:54:00
125 – Tim Shelley – 30:00:00
126 – Kimberley McKeown – 30:00:00
127 – Romar Douglas – 30:00:00
128 – Edwina Arorash – 30:04:00
129 – Mark Eldridge – 30:13:00
130 – Rebecca Roberts – 30:13:00
131 – Sarah Burns – 30:14:00
132 – Judith Howe Tucker – 31:05:00
133 – Winslow Williams – 31:13:00
134 – Natalie Dyrli – 31:14:00
135 – Sonia Rymon-Lipinski – 31:30:00
136 – Andrea Sewell – 31:42:00
137 – Shanelle Reece – 31:49:00
138 – Gordon Johnson – 31:50:00
139 – Daniela Frias – 31:58:00
140 – Bernadette Bridges – 31:58:00
141 – Suzane Decouto – 32:47:00
142 – Justine Foster – 33:24:00
143 – Donna Mae Arorash – 33:45:00
144 – Sharon Chapman – 33:54:00
145 – Patrina Cumbermack – 34:36:00
146 – Jo Stanton – 34:59:00
147 – Calvin Cumberbatch – 35:14:00
148 – Lorriann Lemaire – 35:35:00
149 – Helen Stirling – 37:05:00
150 – Julie Butler – 37:08:00
151 – Rachael Barritt – 37:08:00
152 – Simone Bang – 41:05:0

5K Competitive Walk

1 – Sinclair Smith – 32:46:00
2 – Andrea Bolley – 33:08:00
3 – Gary Young – 34:46:00
4 – Sheena Young – 35:01:00
5 – Ray Medeiros – 35:01:00
6 – Gilda Cann – 36:11:00
7 – Gina Bradshaw – 36:19:00
8 – David Grenfell – 39:06:00
9 – Mariae Dixon – 39:12:00
10 – Louise Treacy – 39:24:00
11 – Barbara Fullerton – 40:03:00
12 – Kaley Keeling – 46:14:00
13 – Tammy Heath – 46:15:00
14 – James Tucker – 58:51:00
-
Click to enlarge photos:

Read More About