Christopher Hands and Laura Knox-Clingerman are the 2015 Running of the Bulls Champions following racing on Sunday morning [Sept 13].
With 124 runners going to the start line, Hands out legged the Bulls to record a time of 18:26, Giuseppe Guglielmucci was second recording a time of 19:55 and Jahmai Lottimore was clocked across the line in 20:37.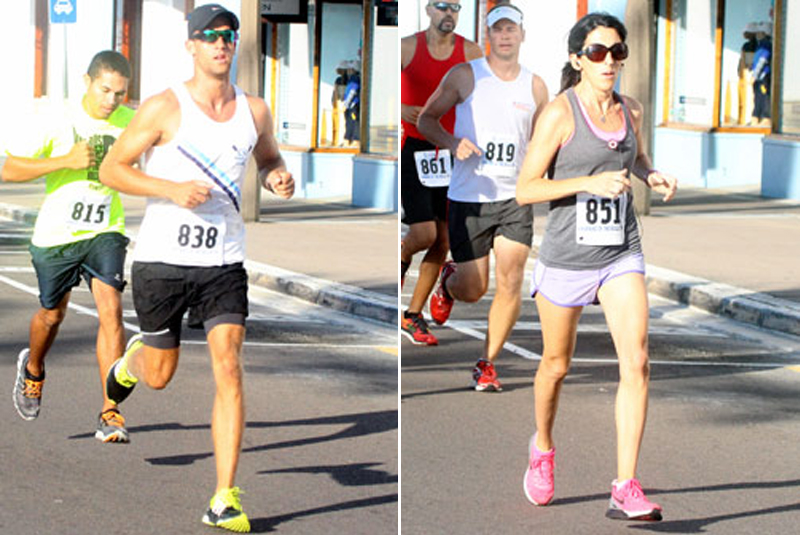 Knox-Clingerman was 8th overall across the line with a time of 21:56, Martina Olcheski-Bell was the second female finisher and 10th overall with a time of 22:13 and the third female finisher was Stepanka Sprincova who was 13th overall clocking 22:28.
Running of the Bulls 2015 Results
18:26 Christopher Hands
19:55 Giuseppe Guglielmucci
20:37 Jahmai Lottimore
20:56 Kent Richardson
21:08 Shay Brown
21:37 Frederick Phillips
21:38 Ryan Gibbons
21:56 Laura Knox-Clingerman
22:11 Deon Heyns
22:13 Martina Olcheski-Bell
22:25 Lloyd Hamilton
22:26 Jonathan Lee
22:28 Stepanka Sprincova
22:30 Andrew Davis
22:47 Shane Mcilwain
23:03 Mark Lombardi
23:08 Rebecca Cooper
23:10 Jeremy Burnham
23:12 Florin Teleman
23:23 Mhairi Donaldson
23:29 Richard Howells
23:30 Tammy Hall
23:34 Hilary Crawford
23:36 Michael Williams
23:42 Emma Norman
23:47 Jerome Wellman
23:54 Whitney Iuliano
23:57 David Woodcock
24:15 Karl WIlson
24:27 Anonymous Participant
24:34 Lucy Ching
24:35 Max Boivin
24:39 Sergio Edness
24:48 Jevon Roberts
24:52 Eleanor Carty
24:54 Nicole Andreasen
25:01 Tre'-Shun Correia
25:11 Christopher Myles
25:19 Terrance Taylor
25:19 David Stewart
25:31 Carla Hinwood
25:31 Harjeet Singh
25:32 Meghan Diel
25:37 Farai Gumede
25:47 Sarah Thompson
25:48 Larissa French
25:53 Rene Notter
26:17 Kim Willey
26:18 Michelle Berkeley
26:19 Calvin Hall
26:20 Anonymous Participant
26:28 David Provost
26:35 Chris Chapman
26:38 Jamie-Lee Wright
26:40 Scott White
26:41 Nancy Stevens
26:48 Shaza Murray
26:53 Jo-Rena Davis
26:57 Anonymous Participant
27:13 Snjezana Tremblay
27:15 Christian Chin-Gurret
27:18 Chris Mayne
27:23 Ray Brooks
27:26 Margot Shane
27:44 Isabel Van Der Westhuizen
27:45 Brad Blasetti
27:50 Tom Hands
28:06 Marion Middleton
28:12 Jordan Johnson
28:15 Sheikia Ming
28:15 Madison Brewer
28:16 Peggy Couper
28:16 Nicole Arorash
28:20 Janie-Elizabeth Nel
28:28 Terri Durrant
28:56 Goretti Clementino
29:16 Samantha Maguire
29:28 Tammy Ingham
29:28 Cathie Oliveira
29:31 Leone Samuels
29:32 Pamela Williams
29:42 Mynor Aguilar
29:53 Ben Wright
30:18 Chris Holden
30:29 Anonymous Participant
30:36 Elanor Daniel
31:19 Nicky Gurret
31:25 Victor Ruberry
31:29 Tobi Mark
31:44 Chantelle Berkeley
31:56 Judith Howe Tucker
32:04 Sums Dharmalingam
32:08 Lesley-Jane Smith
32:40 Martin Bolton
32:50 Camille Chin-Gurret
32:54 Ry-Lyn Howes
32:55 Brittany Easton
33:05 Anna Chan
33:10 Mark Hernandez
33:21 Tyrone Chin
33:34 Gina Anderson
33:40 Dhaksha Kikkeri
33:45 Edwina Arrorash
33:47 Robyn Hayes
33:59 Zina Jones
34:05 Bill McClure
34:06 Jessica McClure
34:08 Michelle Ingham
34:14 Jackie Dougherty
34:19 Kudzi Mumbure
34:32 Akira Robinson
34:45 Anonymous Participant
34:49 Jessica Burns
34:52 Maria Peterkin
34:53 Celeste Tenorio
34:58 Kellyn Tan
35:30 Anonymous Participant
37:12 Nikco Albuoy
38:39 Kim Lightbourne
38:52 Hiroshi Aoyagi
40:57 Donna Mae Arorash
42:43 Desirae Eve
43:07 Charlene Brown
46:11 Lewis Lo

Read More About