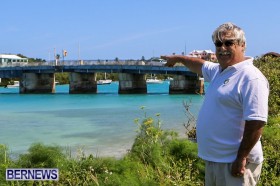 Sail charter operator Jerry Correia is expressing grave concern over the government's plan to close Swing Bridge for maintenance, outlining the effect that such a move will have on local charter and marine tour businesses.
Mr. Correia said, "I need to speak out again one more time as much as I can to try to get our government and the folks here in Bermuda to understand the severity that is involved in the closure of this bridge.
"I need to go back in time a bit to understand why I am what I am and why I am upset the way I am. The way to do that is to start 20 plus years ago when I had the privilege of being the first tour here in St. George's. For that reason I also had the privilege of using the Longbird Bridge back at that time.
"Again, we had the options of going through Castle Harbour or out and around and down the North Shore with the use of both bridges. As we all know, that eventually came to pass that that too, that bridge met the same fate that this one seems to be going the same way.
"Again, we were told that the bridge needed maintenance and all of that and we agreed that it did and they said that they would close it, repair it, and then we would see it open again. As we are now knowing, there are two Bailey bridges alongside and it's temporarily, permanently closed.
"With that said, the years have gone by and we have adapted to doing the one tour around with our visitors. They enjoy it, although we miss out now on the beautiful Castle Harbour and the excellent swimming and snorkeling that is over there. However, we are continuing, as I said, on this side.
"With that said, I am proud to say during those 20 years I saw the first ships come into St. George's; the Majesty and then the rotation of the other ships from Hamilton into St. George's and during that period of time, we were averaging about 15 trips a week. Obviously, I was paying my bills back then and enjoying a good charter business.
"Again something else takes place here in St. George's. The ships stop coming in. In doing so, my trips now are probably three trips a week if I'm lucky. With that said, with the closure of this bridge and all of us that are involved in this, so I'm speaking not just for myself but for my commercial friends who are supposed to be here.
"I'm sure some of them are working, taking advantage of the weather, and are out there either pulling fish pots or doing other things. Hopefully, they will be behind me in spirit. Nonetheless, I'm here and I'm trying to do my best to help the people of Bermuda and our government to understand the severity of what is going on."
Sail charter operator Jerry Correia
Mr. Correia added, "With the closure of this bridge, if I can explain why it is so important; I can now do as I mentioned on my previous thing, is that I can do a circle tour. I can do a historical narration about St. George's. Everything is there. Depending on which way the wind blows is which way I will do the tour. With the bridge now closed, any easterly heavy winds I am now contained to the St. George's Harbour.
"For a three hour trip, I'm sure you would not want to sit on a boat and look at the same places for three hours. It is obviously very, very important that this bridge stays open. With that said, I agree that maintenance is necessary for the bridge, but I don't understand why they cannot wait until the winter to do that."
Minister of Public Works Patricia Gordon-Pamplin's Remarks
Minister Gordon-Pamplin said, "The Ministry of Public Works understands and appreciates the concerns of several of the island's charter boat operators who feel the closure of the swing bridge this summer may jeopardize their businesses' economic viability.
"As Minister of Public Works, I can assure these individuals that I am fully cognizant of their fears and therefore I would not make the decision to keep the swing bridge closed without sound technical advice. Upon speaking with my senior engineers, I have determined that it is, in fact, absolutely necessary.
"Put simply, works must go ahead in order to maintain the safety and security of the bridge. The bridge simply cannot be opened, as to do so may compromise the safety of those road users who traverse the bridge.
"The very real possibility exists that overdue maintenance can cause the bridge to open and not be able to reclose, which would leave residents and tourists alike stranded on one side of the bridge. This is not a situation I would ever like to see happen – especially not during peak tourist season.
"There has been a significant amount of deterioration to the beams of the bridge due to the action of sea water and therefore repairs must be made.
"It would be negligent for the Ministry to open the bridge this summer," added the Minister.
Shadow Minister of Public Works Derrick Burgess' Remarks
Mr. Burgess said, "The excuses provided by the Minister of Public Works, the Hon. Patricia Gordon Pamplin, regarding the repairs to the Swing Bridge are insufficient and unacceptable to the public, and residents of St. George especially.
"There was $450,000 allocated in the 2013/2014 budget for bridge refurbishment. In addition, no bridges were inspected in this same period. Had the government been on top of their game the repairs could have been done between October 2013 and now, and the bridge would have been ready for the summer season.
"Now, unfortunately we are in a situation where businesses and peoples' livelihoods are being compromised due to the inattention paid to the Swing Bridge by the OBA government.
"This neglect is unfair to the people who work and reside in and around the St. George community."
Read More About