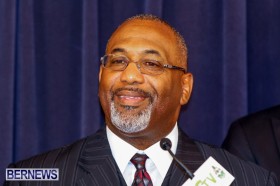 According to a report from Lousiana's Times Picayune, Bermuda's former Commissioner of Education Dr. Edmond Heatley is back in the running for the Orleans Parish schools superintendent job in the United States.
The American educator served as Bermuda's Education Commissioner for 8 months and resigned effective April 30th.
Bermudian educator Dr. Lou Matthews has taken on the role of Acting Commissioner.
Dr. Heatley had taken up up the post in Bermuda in September 2013 and in March 2014 it was revealed that he applied for the job in New Orleans.
Controversy arose when it was learned that on his application for the job he claimed to have "increased public education approval rates from 23% to 93%" while employed in Bermuda.
Education Minister Dr. Grant Gibbons has stated that the Ministry has "no knowledge of the survey" to which Dr Heatley referred to when he said he had raised approval rates some 70% in six months.
Opposition MP Walton Brown had called for him to resign, Independent MP Terry Lister suggested he should be told to "get cracking", while School Principals represented by the BPSU declared a "vote of no confidence" in Dr. Heatley.
The Times Picayune reports, "Heatley was interviewed in March with three other candidates then dropped out of the hunt after experiencing major blowback in Bermuda, where he'd worked for less than a year. He ended up resigning.
"At that point, 'There was enough interest from the board' that they had consultant Bill Attea reach out, Marshall said, and Heatley renewed his interest in the New Orleans job."
Second interviews will take place in New Orleans between June 11 and 20.
Read More About
Category: All