Bermuda Hospitals Charitable Trust [BHCT] has received a gift of $275,000 to the Why it Matters campaign on behalf of OIL Group of Companies [OIL].
Robert Stauffer, President of OIL stated: "The OIL Group of Companies has had a long term commitment to Bermuda; as such it was natural to make a commitment to support the Why It Matters Campaign. The people of Bermuda deserve a world class health facility and we all, businesses and individuals alike, are to do our part to make this facility a reality."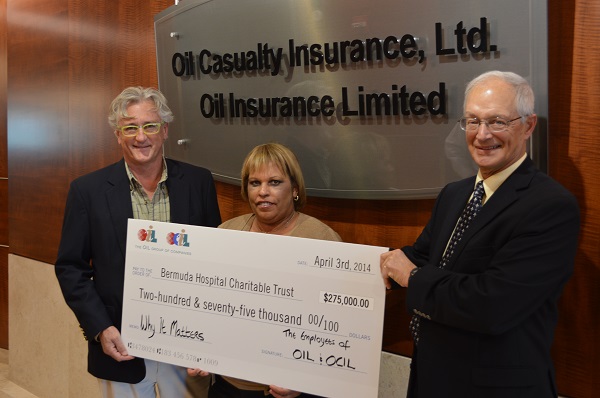 Philip Butterfield, Chairman of BHCT, said: "We extend our many thanks and gratitude to OIL Management Services for this gift to the redevelopment of our hospital. Support for the campaign touches each and every one of us, as the hospital serves our entire community."
A spokesperson said, "OIL's recent donation will help boost the campaign closer to its goal of raising $40 million in support of the new Acute Care Wing scheduled to open in September 2014. In the fall, the community can expect an enhanced level of hospital care delivery in a state-of-the-art facility.
"Bermuda Hospitals Charitable Trust continues to encourage support for the new wing through active fundraising within the community. All businesses, associations, families and individuals who pledge their support by June 20th will be featured as founding donors within the new facility. Donations can be made online at www.bhct.bm, at all local banks, by mail or by calling 295-2428."
Read More About